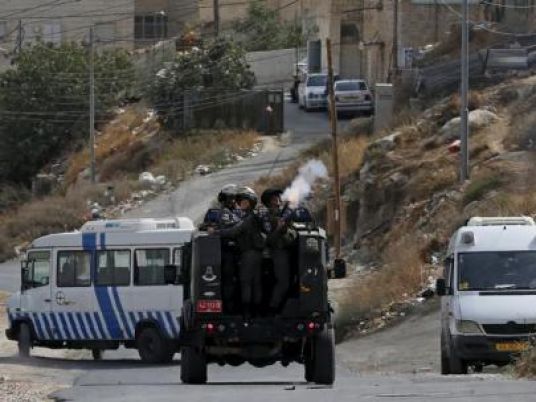 Israel tightened security on Sunday, hours after five more Israelis were either stabbed or subjected to stabbing attempts by Palestinians who had launched a string of knife attacks in Jerusalem over the past few weeks, AFP reported.
Palestinians, mostly youths, are apparently enraged with recent raids by Israeli troops and settlers on al-Aqsa Mosque in Jerusalem, Islam's third holiest shrine.
According to official counts from Palestinian and Israeli authorities, attacks by Palestinians and counter-attacks by Israeli troops and settlers since the beginning of October have left 42 Palestinians dead, including 10 children and one woman, as well as seven Israelis, Anadolu Agency said.
Israel has set up checkpoints in Palestinian neighborhoods in east Jerusalem, where many of the knife attackers have originated. Hundreds of soldiers have reinforced their patrols, but frustrated youths have defied efforts to prevent violence, AFP reported.
AFP, quoting Israeli authorities, added that a group of 30 ultra-Orthodox Jews who attempted to illegally visit a holy site in the West Bank overnight were assaulted by Palestinian individuals, with five of the Israelis arrested by Palestinian police and handed over to Israeli security.
Additionally, Israeli students from a school in Jerusalem were visitng Joseph's Tomb in the northern West Bank city of Nablus, despite not having the required authorization from Israel's military. The shrine had been set ablaze by Palestinians last week.
Those arrested were to be presented to a judge on accusations of violating a military order after being examined at a hospital, according to AFP.
Israeli police called the students' visit "completely irresponsible" and said the incident "could have ended tragically".
Many Jews believe it to be the final resting place of the biblical patriarch Joseph, while Muslims believe an Islamic cleric, Sheikh Yussef (Joseph) Dawiqat, was buried there two centuries ago.
The shrine is under Palestinian control and off-limits to Israelis except on escorted trips organized by the army.
Meanwhile, Palestinian Maan News Agency said that more than 200 Israeli settlers attacked the Palestinian villages of Wad al-Haseen and Wad al-Nasara near the Israeli settlements of Kiryat Arba overnight in the eastern Hebron district of the occupied southern West Bank, locals and medics said.
During the attack, Israeli settlers threw stones and firebombs at Palestinian homes and injured at least three people, two of whom were minors, while Israeli forces later shot and injured one Palestinian with live fire, according to the agency.