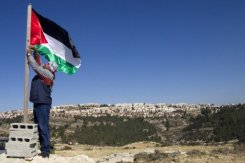 Israeli troops shot dead a 22-year-old Palestinian early on Thursday during a raid near the northern West Bank city of Jenin, Palestinian medics and security officials said.
Ahmad Tazazaa was shot dead in Qabatya after Israeli soldiers entered the town to carry out an arrest operation, Palestinian officials said.
Local residents threw stones at them, prompting the soldiers to open fire, hitting Tazazaa in the chest, medical sources said.
Another four people were arrested.
The Israeli military confirmed four arrests in the town but said they were looking into reports someone had been killed.
"During an operation overnight to arrest four Palestinian suspects, some 50 Palestinians threw stones at Israeli soldiers, who responded using anti-riot methods," an army spokeswoman told AFP.
"We are looking into reports that a Palestinian was hit during the operation."
Meanwhile, hundreds of people were gathering in Jenin to accompany the body from the morgue back to Qabatya for his funeral later in the morning, an AFP correspondent said.
Locals said the Tazazaa was a member of the radical Islamic Jihad movement, but there was no immediate official confirmation.
On 17 September, Israeli troops shot dead an Islamic Jihad member in Jenin refugee camp, about a month after killing another suspected member of the group in the city.