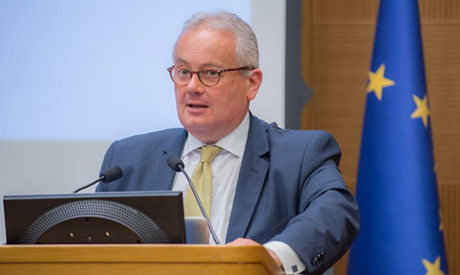 Italy's Minister of Foreign Affairs, Angelino Alfano, said on Monday that the Italian ambassador to Egypt, Giampaolo Cantini, will return to his post in Cairo on September 14, state-run news agency MENA reported.
Egypt's ambassador to Italy, Hesham Badr, will resume his role in Rome on the same date.
According to Italy's AGI new agency, Alfano made the announcement during  the foreign affairs committee session at the Italian parliament
"Egypt is an inextricable partner of Italy, and Italy is also an inextricable partner of Egypt," said Alfano. "Therefore, it is impossible for our countries not to have a high-level political and diplomatic dialogue."
Alfano said that sending Cantini to Cairo is intended to consolidate the political and ethical obligations of the Italian government regarding the investigation into the murder of Italian researcher Guilio Regeni.
Alfano also told the Italian parliament that the Regeni case was "a serious injury for our conscience, for all of us and for the whole country," in a report by Italian news agency ANSA.
"The day the body of Giulio Regeni was found, bilateral relations suffered a big blow," said the Italian minister.
Regeni's murder cast a shadow over Egypt-Italian relations. Rome recalled its ambassador in April 2016, expressing concerns about the alleged lack of transparency in Egypt's investigations.
In mid-August Alfano announced that an Italian ambassador would return to Cairo more than a year after the envoy was recalled in the wake of the Regeni murder.
Regeni was conducting research on trade unions before he went missing on January 25 last year. His body was found with signs of torture.
According to the Egyptian interior ministry, police stopped investigating the Italian student days before his disappearance.