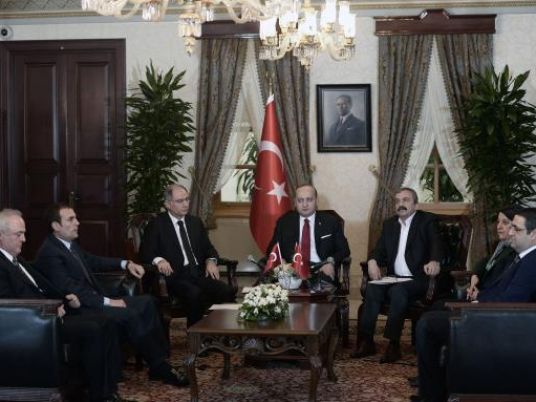 Jailed Kurdish militant leader Abdullah Ocalan called on his followers to take a "historic" decision to lay down their arms, according to a statement on Saturday, a crucial step in
Turkey
's drive to end a 30-year insurgency by Kurdish rebels.
Turkey's president, Tayyip Erdogan, welcomed the call but cautioned the rebels had failed to deliver on previous pledges.
Sirri Sureyya Onder, a lawmaker from parliament's pro-Kurdish Peoples' Democratic Party (HDP), read a statement from Ocalan that urged the Kurdistan Workers Party (PKK) to attend a congress on disarmament in the spring months.
"I invite the PKK to attend an extraordinary congress in the spring months in order to make the strategic and historic decision to abandon the armed struggle," Onder said, quoting Ocalan, with whom an HDP delegation met this week.
Onder spoke live on television alongside Deputy Prime Minister Yalcin Akdogan, who said the move towards disarmament showed "an important phase in the resolution process has been reached," after the two sides met briefly in Istanbul.
"We view this statement as important to accelerate the work on disarmament … and for democratic politics to come to the forefront," Akdogan said.
The statement also attributed to Ocalan 10 measures that Kurds want to ensure peace, including a new constitution which Erdogan is also seeking – to imbue his office with more executive powers and to replace a charter drawn up by technocrats after a 1980 military coup.
Erdogan has risked a nationalist backlash to pursue an end to the insurgency that has claimed more than 40,000 lives, mostly Kurdish, since 1984, launching jailhouse talks with Ocalan – once derided as a "baby killer" – in late 2012.
"Of course calls are good, but what is most important is implementation. How much will implementation will be reflected in the field ahead of an election?" Erdogan said at a news conference.
"I hope (they) will stand behind these statements."
Election
Facing a parliamentary election in June, the government has said it expected Ocalan to declare an end to the PKK's armed struggle for greater autonomy and cultural rights for Turkey's estimated 15 million Kurds.
The PKK's units have joined other Kurds to battle Islamic State in Syria and Iraq. Kurdish victories, especially in the Syrian town of Kobani, have raised worries in Ankara about an emboldened PKK at the bargaining table.
Less than two weeks ago, the PKK warned the government negotiations could break down unless it took concrete steps to further the peace process.
"With today's events a critical point has been reached in Turkey's democratisation, the expansion of freedoms and for lasting peace," said HDP chairman Selahattin Demirtas, whose deputies have shuttled from Ocalan's island prison near Istanbul to Qandil mountain in northern Iraq, where the PKK is based.
The disarmament congress would be held after consensus on the measures outlined in the statement is reached, he said. It was not clear who would attend the conference or whether PKK forces outside of Turkey would be expected to lay down arms.
Turkey, the United States and the European Union list the PKK as a terror organisation. The militants declared a ceasefire in Turkey in 2013, but violence still sporadically erupts.