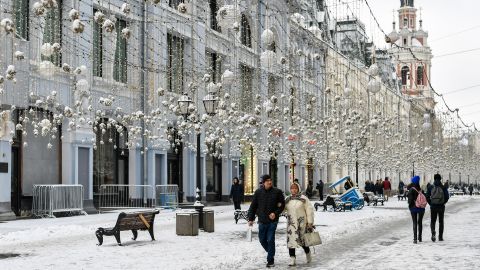 Ukraine is demanding an apology from Hungary after Prime Minister Viktor Orban was seen wearing a scarf that appeared to show parts of western Ukraine in a map of Hungary.
Orban was pictured on his Instagram wearing the scarf at a football match between Greece and Hungary on Sunday.
The Hungarian Ambassador to Ukraine, Istvan Igyar, was summoned to the Ukrainian Ministry of Foreign Affairs on Tuesday, where he was told the incident was "unacceptable," according to a statement from the ministry.
"The attention of the Hungarian diplomat was drawn to the fact that such actions do not contribute to the development of good neighborly relations between Ukraine and Hungary," MFA spokesperson Oleh Nikolenko said. "It was emphasized that Ukraine expects an apology for this incident and hopes that in the future the Hungarian side will refrain from steps that may be regarded as disrespect for the territorial integrity of our state."
What was on the scarf: The map appeared to represent Greater Hungary as part of the Austro-Hungarian Empire, which was defeated in World War I. It also includes parts of Romania, Slovakia, Serbia, Austria, Croatia and Slovenia.
A Romanian member of the European Parliament, Alin Mituta, called it an "irresponsible act" by Orban.
"It's a revisionist gesture that puts Orban alongside [Russian President Vladimir] Putin, who also dreams of border changes. He should be sanctioned and isolated by EU leaders in the European Council," Mituta said on Twitter.