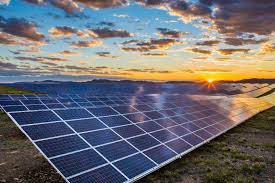 Egypt's Ministry of Electricity is set to open the largest solar power plant in the world in the Benban area of Aswan Governorate in the coming days, boasting a total of 32 plants with a capacity of 1465 MW, Youm7 reported on Tuesday.
An official source in the New and Renewable Energy Authority, which is affiliated with the Ministry of Electricity, said that construction of the solar power plant was completed in October, according to the timetable, and it is now connected to the National Electricity Grid, according to Youm7.
The new solar power plants is a build, own, operate (BOO) project, or a public-private partnership (PPP) project  in which a private company builds, owns and operates a facility with some encouragement or support from the government, the source added.
The Benban solar region of Aswan houses 40 solar power plants — the largest number of power plants in a single area in the world.
Egypt's electricity sector aims for 20 percent of the capacity of the country's National Electricity Grid to be generated from renewable energy resources by 2022.
The current energy strategy in Egypt is focused on maximizing the use renewable energy, with the government hoping to generate 42 percent of the country's energy using renewable resources by 2035.