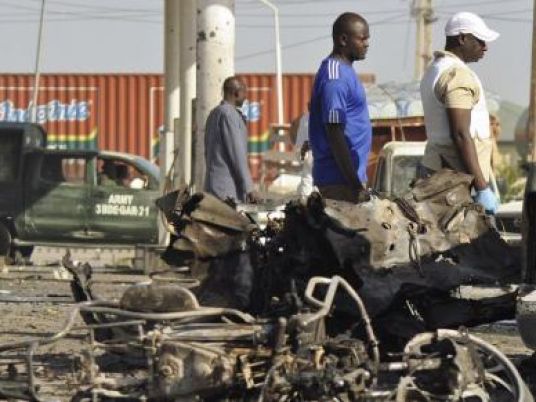 A blast set off by a female suicide bomber tore through a crowded market in the northeastern Nigerian city of Damaturu on Sunday, killing at least 15 people, a police spokesman said.
No one has claimed responsibility for the explosion, which witnesses said occurred at around 9.30 a.m. (0830 GMT), but it is the latest in a series of attacks in the last few weeks that bear the hallmarks of militant Islamist group Boko Haram.
"Fifteen people have been confirmed dead so far and more dead bodies are being brought to the hospital," said police spokesman Toyin Gbadegasin. Witnesses said around 50 people had been injured.
The explosion in the centre of Yobe state's capital came six days after a suicide bomber killed three policemen at a checkpoint on the outskirts of the city.
And earlier this month at least nine people were killed in the city by a female suicide bomber as worshippers gathered to mark the Muslim holiday Eid al-Fitr.
Boko Haram controlled a swathe of land around the size of Belgium at the end of last year, but were pushed out of most of that territory by Nigerian troops in the last few months, with military help from neighbouring Chad, Niger and Cameroon.
But the militants have since carried out attacks in northern Nigeria and neighbouring countries as part of a resurgence.