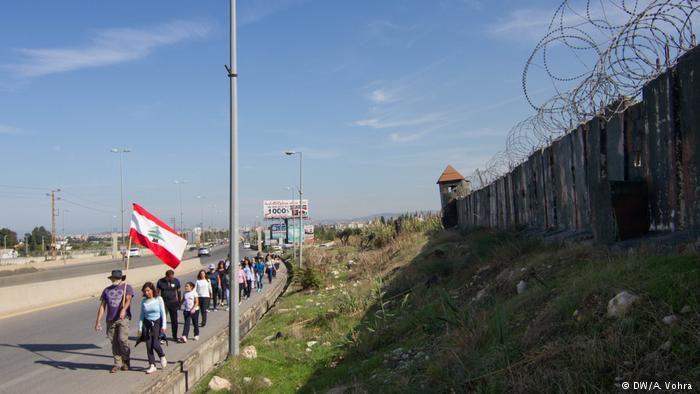 The civil group Massirat Watan is walking for 52 days across its homeland in order to build a better future, free of sectarian and religious strife. But Prime Minister Hariri's resignation has revived fears of violence.
Waving the flag of Lebanon in uncertain winds, a bunch of Lebanese citizens are marching along the stretches of road that reach from the coastal city of Aabdeh southwest towards Tripoli, distributing copies of Lebanon's constitution to fellow countrymen and women as they go.
"Some people cry when they hold it, and some kiss the book," Maya Souhaid says as she hands over a copy to the owner of a furniture shop whose response is lukewarm.
A corporate lawyer, Maya is juggling three jobs this Sunday: looking after her kids, preparing for a major court case and walking 40 kilometers (25 miles) to spread awareness about the rights enshrined in the constitution.
Maya and her husband Nadim formed a group of 12 professionals called "Massirat Watan" or "Journey for a nation" with the aim of strengthening a sense of national identity over the dominant sectarian and tribal allegiances. The group is on a quest to instill faith in voters about the fundamental principles according to which a state should be governed. Missirat Watan wants to counter the prevailing notion that welfare would emerge from obeying politicians along sectarian lines.
"The politicians share the contracts and make money," Maya says, alluding to Lebanon's rampant corruption.
A purposeful walk, clouded by uncertainty
Massirat Watan set off on October 1st on a 52-day, 600-kilometer walk along Lebanon's four borders, speaking to people in every region of the country and of all sects and religions and inquiring about the issues faced by them.
On November 4, the 35th day of the march, the mission of taking Lebanon forward was interrupted by the sudden resignation of Prime Minister Saad Hariri. In the consociationalism system of governance, in which the highest offices are proportionately reserved for representatives of certain religious communities, Hariri represents the Sunnis. He is backed politically and financially by the Kingdom of Saudi Arabia.
In a rushed visit to Riyadh over a week ago, Hariri read out a written statement in which he proclaimed a threat to his life. He expressed fear that he might be assassinated like his father Rafiq Hariri, who was killed in an explosion in 2005 that was allegedly carried out by Hezbollah, a Lebanese Shiite militia backed by Iran.
But the current prime minister's abrupt resignation from a foreign land has left the Lebanese humiliated and furious.
"Saudis are holding him hostage," says Maya. Her sentiment resonates all across the nation, which is reeling under a renewed apprehension that Lebanon might face another war.
War is a possibility
The country has witnessed its fair share of war. It was torn apart by a 16-year-long bloody civil war from 1975-1990, has had several violent encounters with Israel, and has a trying relationship with the Palestinian refugee community within its borders. Politically it has been a mess. Since the last elections were held in 2009, former war lords turned parliamentarians have governed without a mandate. Hariri's bombshell news, whether announced under force or of his own free will, has cast a shadow of doubt over Lebanon's future.
"War is possible and if that happens, we will have to stop," says a worried Maya, but she adds that so far the group remains undeterred. "We will do everything we can to build a lobby which ensures elections happen in May 2018 as planned."
Lebanese citizens are marching for peace and stability as Lebanon faces another crises. Organiser of the group, Maya says the situation is critical @dwnews pic.twitter.com/QEgWwyR5Gc

— Anchal Vohra (@anchalvohra) November 12, 2017
According to political analysts, even if the government has resigned, new elections can be conducted. The problem is politics. If Hariri does not return, Lebanese Sunnis will have to pick up another candidate, something which is unlikely to happen without Saudi approval.
A source close to the Lebanese government told DW that the ball lies in the court of the Sunni elite. On the condition of anonymity, he said, "President [of Lebanon] Michel Aoun and his ally the Hezbollah are waiting for the Sunni leadership to present an alternative."
Hezbollah's Secretary General Hassan Nasrallah has officially appealed for calm, yet the tension can be vividly felt in Tripoli. The bullet-ridden walls of the city tell a story of recurring riots between the Sunnis of Bab al Tabbaneh and the Alawites of Jabal Mohsin. At the demarcation line between the two neighborhoods, Lebanese soldiers stand guard, and an NGO has opened a peace cafe.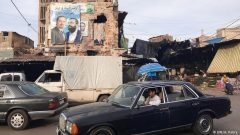 The founder of the cafe, Lea Baroudi, talks about a general sense of opposition against being coaxed into another conflict by the regional powers. Despite an overwhelming rejection of escalation of hostilities by the Lebanese, Baroudi doubts peace will hold.
"We are in a very delicate situation," she says raising her eyebrows and lowering her voice. "The youth feels even if they resist, they can't stop bloodshed if the powers that be insist on it."
Waving the Lebanese flag in uncertain winds, Maya Souhaid is marching in Tripoli along with her family. Distributing copies of the Lebanese constitution, urging for unity at a time Lebanese PM has resigned and still in Riyadh @dwnews #MarchingForLebanon pic.twitter.com/EDZM9gVZrR

— Anchal Vohra (@anchalvohra) November 12, 2017
However, members of Massirat Watan and sources close to the government who DW spoke with are more concerned about an economic backlash. This seems to be the greater immediate danger stemming from the Saudi reaction to Iran's increasing influence in the region, which Hezbollah aids.
Economic concerns post Hariri's resignation
"The biggest fear is of Saudis pushing out 200,000 or so Lebanese who live and work in the Kingdom of Saudi Arabia," says Elias Farhat, a retired general in the Lebanese army.
The Lebanese in the Saudi kingdom send back close to $2 billion (€1.7 billion) in remittances each year. Grappling with the monetary loss and, more importantly, hosting the Lebanese if they are asked to leave the kingdom would be a nightmare for Lebanon. The country has seen a deluge of refugees, first from Palestine and more recently from Syria.
Since Massirat Watan started its march for Lebanon's future at the beginning of October, any gains made have been reversed. The members feel the country is entering dire straits with Hariri's resignation. The group has mustered up the determination to finish the long ambulatory consultation with compatriots. It is set to culminate in Beirut on November 22, Lebanon's independence day. But in a homeland where war is a constant and peace an aberration, it is hard to be hopeful.
"Elections take place in six months. Right now we are not sure of what will happen tomorrow," says Maya clutching the hand of her nine-year-old daughter Yasmina and husband Nadim.