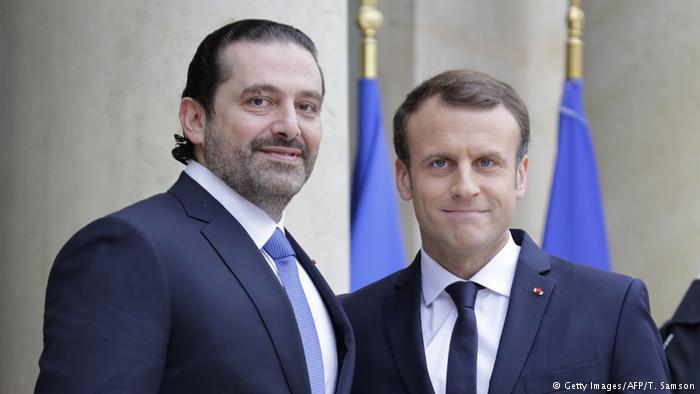 French President Emmanuel Macron welcomed the outgoing Lebanese premier, Saad Hariri, at the Elysee Palace on Saturday. It is believed that a formal lunch will be held after the meeting, which will be attended by Hariri's wife and elder son.
The leader's two younger children have remained in Riyadh to finish their "school exams," said a source close Hariri. "He doesn't want to mix his children up in this affair," the source claimed.
Hariri arrived in Paris on his private jet early Saturday morning. Lebanese television showed footage of him leaving Paris' Le Bourget airport, and later entering his Paris residence. A source close to the Hariri announced, "The premier has arrived."
After his arrival, he is alleged to have called Lebanese President Michel Aoun and announced that he will be returning to take part in Independence Day celebrations in Beirut on Wednesday, as reported in Lebanon's state-run National News Agency.
The ceremony is usually led by the president, prime minister and parliamentary speaker. It is the strongest confirmation yet that Hariri intends to return to Lebanon after his sudden resignation earlier this month.
Macron had said Hariri would be welcomed with honors
Hariri's resignation and uncertainty about whether he would return to Lebanon prompted French President Emmanuel Macron to make a surprise trip to Riyadh last week.
Macron urged calm and extended an invitation to Hariri to come to France, which the Lebanese politician accepted.
Early on Friday, Macron said he would welcome Hariri "with the honors due a prime minister" because the resignation has not yet been officially recognized.
The Lebanese leader is expected to meet Macron on Saturday.
Speaking at a EU summit in Sweden on Friday, Macron also said that Hariri "has the intention, I believe, of going to his country in the days or weeks ahead."
Hariri announced he was quitting his post as prime minister in a video message on November 4, during a visit to Saudi Arabia. The 47-year-old politician accused Iran and its ally Hezbollah of sowing "fear and destruction" across the region and alluded at an alleged plot against his life. Hezbollah has a powerful militia and its political wing is part of the ruling coalition.
Many in Lebanon and abroad, however, believe that Hariri was forced to resign by the Saudi authorities and was held in the kingdom against his will, as part of a major ploy against Iran's influence in the religiously divided Lebanon. Hariri belongs to the Sunni political faction which is backed by the Sunni-dominated Saudi Arabia, and also holds Saudi citizenship. He has consistently rejected reports of his detention.
Lebanese President Michel Aoun, a Marionite Christian close to Hezbollah, has refused to consider the resignation before the two meet in person.
Tweet to German Foreign Minister Sigmar Gabriel
In a rare English-language tweet, Saad Hariri responded to recent comments made by Sigmar Gabriel, saying it was a "lie" that he was held captive by the Saudi government.
To say that I am held up in Saudi Arabia and not allowed to leave the country is a lie. I am on the way to the airport Mr. Sigmar Gabriel.
On Thursday, Gabriel met with his Lebanese colleague, Gebran Bassil, in Berlin, where he warned against "adventurism" in the crisis prompted by Hariri's shock resignation two weeks ago.
Earlier in the week, the German official said that "Lebanon has earned the right to decide on its fate by itself and not become a pinball of Syria or Saudi Arabia or other national interests."
Saudi Arabia late on Friday announced it was recalling its ambassador to Germany for consultation in response to Gabriel's remarks. Saudi state news agency SPA accused Germany's top diplomat of suggesting that Hariri had been held in Riyadh against his will.
"Saudi Arabia has decided to recall its ambassador to Germany for consultations and will give the German ambassador in the kingdom a letter protesting these unfortunate and unjustified statements," SPA quoted the Saudi foreign ministry as saying.