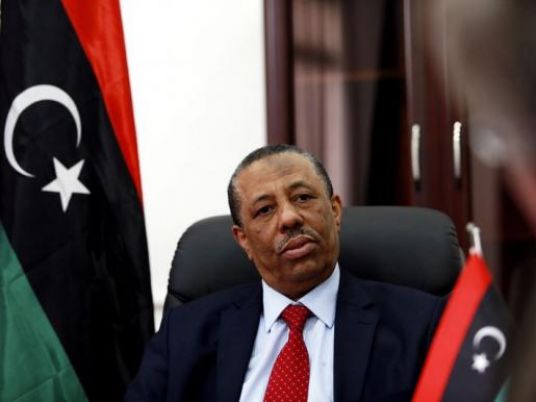 Libya's internationally recognised Prime Minister Abdullah al-Thinni said his government would stop dealing with Turkey as it was sending weapons to a rival group in Tripoli so "the Libyan people kill each other", ramping up his rhetoric against Ankara.
Two administrations, one in the capital and Thinni's in the east, have been vying for power since an armed group called Libya Dawn seized Tripoli in July and reinstated lawmakers from a previous assembly, four years after Muammar Gaddafi's ousting.
"Turkey is a state that is not dealing honestly with us. It's exporting weapons to us so the Libyan people kill each other," he told Egyptian TV channel CBC late on Thursday.
A spokesman for Turkey's foreign ministry strongly denied Thinni's allegations.
"Instead of repeating the same baseless and untrue allegations we advise them to support U.N. efforts for political dialogue," spokesman Tanju Bilgic told Reuters.
"Our policy vis-a-vis Libya is very clear. We are against any external intervention in Libya and we fully support the ongoing political dialogue process under U.N. mediation."
Thinni's government said this week it would exclude companies from future deals, accusing Ankara of backing the Tripoli government and its allied armed groups.
He repeated that Turkish firms would be excluded from contracts in territory controlled by his government in the CBC interview, noting that any outstanding bills would be paid.
"We don't say we are hostile to Turkey but we say we don't deal with it," he said.
Turkey is one of a handful of countries which has publicly received officials from the Tripoli government and parliament.
Critics of Ankara say its Libya policy is an extension of a pro-Islamist agenda which has already seen relations sour with other former regional allies, notably Egypt.
Thinni also accused Qatar of giving "material" support to the rival side in the Libyan conflict. He did not elaborate.
Army general Khalifa Haftar, who merged his forces with the army in the east to fight Islamist militants, is seen as a potential rival to Thinni. While the alliance between the groups has enabled them to win back territory, Haftar has been criticised for air strikes on civilian airports and seaports.
On Wednesday, a spokesman for Thinni's parliament said the assembly's president would appoint Haftar as top army commander.