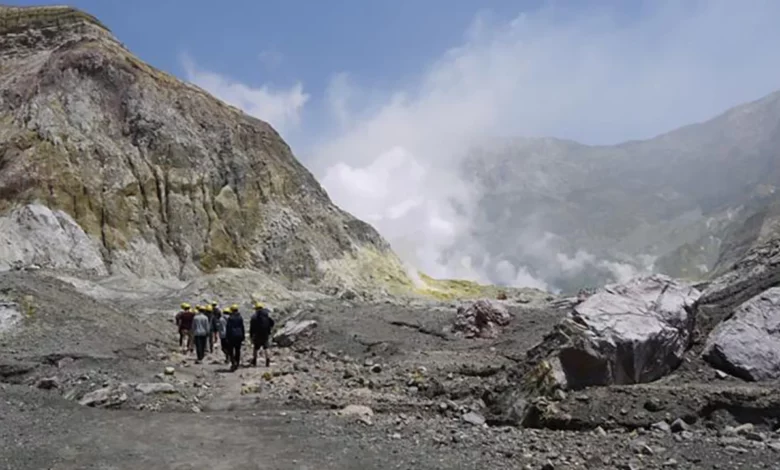 Brisbane, Australia
CNN
 —  Survivors of one of New Zealand's worst natural disasters have described the searing pain of being lashed by burning sand, ash and rocks during a volcanic eruption on Whakaari or White Island in 2019 that killed 22 people.
Their evidence was heard this week during a criminal trial brought by WorkSafe, the country's health and safety regulator, against six parties, including three brothers who own the island, once a popular tourist destination 48 kilometers (30 miles) off New Zealand's north island.
Forty-seven people were on Whakaari, the island's traditional Maori name, at the time of the blast, including honeymooners and families, who either died or suffered severe burns in the incident.
Via video link from Australia, tourist Annie Lu told the court Thursday that she had booked a tour to the island with her mother after reading about it in a brochure, and said they weren't warned until they were standing on the island that the volcano was at "level two."
"There was no mention of things being dangerous," she said.
According to New Zealand's six-level Volcanic Alert system, level two means "moderate to heightened volcanic unrest" with the potential for an eruption.
The tourists were equipped with helmets and gas masks, but otherwise weren't told to wear or bring anything special besides enclosed shoes and clothing that covered them, Lu said.
"The impression that we were given basically was that it was just a casual day out," Lu said.
But what happened was a horrifying ordeal that left Lu with burns to 38 percent of her body, requiring multiple skin grafts that scarred the only parts of her body that hadn't been burned.
'It was just burning'
On the day of the eruption, Lu said her mother noticed a black cloud in the sky, then they heard someone yell, "everyone run."
Video replayed in court showed huge plumes of ash dwarfing the group of tourists, who had been escorted by tour guides from the jetty, where their boat had docked, to the crater.
Lu said the first gust of wind blew off her helmet, and as she dived for cover behind a rock formation she held her gas mask against her mouth.
What happened next inflicted waves of almost indescribable pain, Lu said.
"It's like sand and rocks everywhere that were being thrown at me. It really, really hurt," she said. "It was just burning. I've never felt anything like that before. It was just like someone heated up some needles until it was iron hot and then shoving it all onto you."
"Think of, if you open an oven and the heat just rushes at you. It's kind of like that but 1,000 times worse."
The court heard a recorded interview Lu gave police several months after the disaster, and on Thursday she was asked to add more detail about the aftermath of the eruption.
"There were no clear instructions or plan, everybody just purely went on fight-or-flight instinct and ran directly for the jetty," she said.
Lu said she entered the water to stop her leggings from melting into her flesh. Medical attention on the boat was "very limited," she added, and water supplies ran short as people tried to wash the ash from their skin.
Lu told the court the eruption had changed her "physically and mentally."
Before the disaster, she worked in the fashion industry. After it, she had to take time off to heal and could no longer go back. "I had a whole career change because, you know, as hard as it sounds, the fashion industry is all about appearances," she said.
Silent black cloud
Earlier, the court heard evidence from American tourists Matthew and Lauren Urey, who were on honeymoon and booked a tour to the island through Royal Caribbean Cruises.
Matthew Urey said the sea was extremely rough during the small boat ride to the island, and many passengers became seasick. He said the tourists were told the volcano's activity level was elevated, which meant they couldn't go to some areas of the island.
"They mentioned that we would have respirators for our comfort. That was all I remember them saying about the island while we're on the boat," he said. "They might have given a couple of other pieces of information but I don't remember anything specific."
On the island, Urey said guides led their group to the edge of the crater, where they spent about 10 minutes before slowly walking back.
"I remember somebody yelling, 'look' and I looked over and I saw a very large black cloud coming out of the volcano. And that's when we were told to run," he said.
Lauren Urey said the billowing black cloud was silent, but as she and her husband hid behind a rock they heard a "loud boom" as the volcano erupted, then screams. "Screams for help and screams in agony," she said in her testimony.
Matthew Urey said he struggled to breathe as they were enveloped by waves of heat that prosecutors estimate reached 100 degrees Celsius (212 degrees Fahrenheit), or more.
"I don't know whether it was steam or hot ash, but it was all over us," he said.
When the sky cleared, the survivors trudged through a thick layer of ash to get to the small inflatable docked on the jetty.
"Some people were not as injured as other people, so some people could get on the boat a lot easier than others. (Some people) were jumping on it and pushing other people aside," said Lauren Urey.
Since that day, the couple have had multiple surgeries and skin grafts.
"We wanted to have two kids, but now I'm considered high risk, if I do decide to have kids," Lauren Urey said. "So this has impacted me and my husband and our families much more beyond just our physical injuries," she told the court.
The six parties fighting the charges include three brothers who own the island, Andrew, Peter and James Buttle and their company Whakaari Management Ltd (WML), as well as ID Tours New Zealand Ltd and Tauranga Tourism Services Ltd.
WorkSafe prosecutor Kristy McDonald KC told the court that cruise ship passengers "received no health and safety information prior to commencing the tour," and that WML had failed its duty of care to tourists visiting the island.
By 2019, she said WML was making an annual profit of approximately 1 million New Zealand dollars ($640,000) from tourism to the island, but not enough was spent on ensuring facilities were safe.
"WML was obliged to understand the risks of what it was doing. It never bothered to understand the risks properly," she said.
The Buttles and WML deny the charges. In another court hearing that sought to have the charges dismissed, the Buttles' lawyer David Neutze said the brothers had little control over the tours, according to CNN affiliate Radio New Zealand.
Five organizations have already pleaded guilty and are awaiting sentencing, including Volcanis Air Safaris, Aerius, Kahu NZ and White Island Tours.
New Zealand science agency GNS pleaded guilty to one charge of failing to consult with helicopter pilots about the risks, and had one charge dismissed.
Luxury charter flight operator Inflite pleaded guilty last year and was fined 227,500 New Zealand dollars ($145,000) plus court costs. The allegations carry a maximum fine of 1.5 million New Zealand dollars ($950,000).
The trial is expected to last 16 weeks.