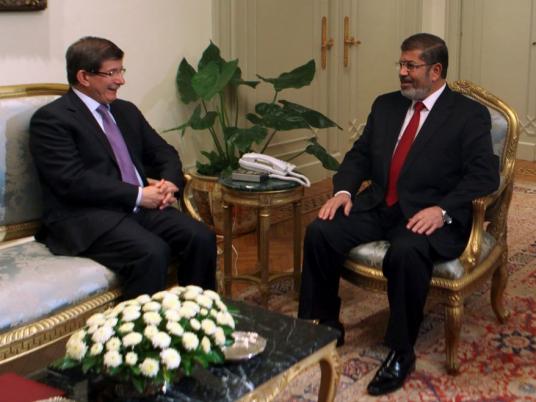 After receiving some substantial financial aid from the Turkish government, Egypt is increasingly turning to its Anatolian neighbor for much-sought after private investments.
This month, the Turkish government agreed to deposit US$2 billion in the Central Bank of Egypt to fund small and medium-sized enterprises following an official visit made by President Mohamed Morsy to Istanbul late September.
In addition, Turkish businessmen are set to announce an array of new business projects that they say will cement a level of unprecedented economic cooperation between the two countries by 2013.
The agreement took place about two weeks ago after Turkish Foreign Minister Ahmet Davutoglu and Egyptian President Mohamed Morsy met at the High-Level Syria Contact Group. The loan is intended to help finance Egypt's infrastructure and increase its dwindling foreign currency reserves, Egypt's Finance Minister Momtaz al-Saeed said.
Two weeks ago, Saeed announced that Egypt's domestic debt has risen to LE1.39 trillion. The Morsy administration has been seeking foreign help in the hopes of mending the gaping deficit in the state's budget and foreign currency reserves. In July 2012, Egypt's budget deficit reached almost US$20 million.
The Turkish Embassy in Cairo has announced that half of the US$2 billion package would be in the form of bilateral loans, but no further details have been released as to how it might be structured.
"None of the Turkish or Egyptian officials who signed the papers regarding the aid have discussed or explained how the loan will be spent or used," Zeki Ekinci, chairman of the Turkish-Egyptian Businessmen Association (TUMIAD) told Egypt Independent.
However, it seems that the government loan could be a gateway for Turkish private investment.
Not yet public
Turkish companies are planning a series of projects and investments that have yet to be made public, Turkish business leaders say.
Chairman of the Egyptian-Turkish Group, Hassan Akyuz, said that among the new Turkish investments would be investment and trade companies, in addition to a hypermarket and Turkish hotels, such as Rixos Hotel.
Akyuz told Egypt Independent that though the projects have not been officially announced, they are already in the works.
"No less than 50,000 Egyptians will be employed at such projects, and as according to the law, the companies will have at least nine Egyptian businessmen and one foreigner to work on each project," he said.
An official at the Federation of Egyptian Chambers of Commerce told Egypt Independent that he could not discuss the projects as the details had not been made public.
Tightening economic ties
Egypt and Turkey significantly altered their economic relationship when the two countries signed a Free Trade Agreement in November 2005. The agreement resulted in a threefold increase in trade exchange between Turkey and Egypt from 2006 to 2012.
This marked a sharp departure from the previous decade. In the 1990s, the two countries were neither trade partners nor friends as a result of the policies of Mustafa Kamel Ataturk. The founder of the modern Turkish Republic, Ataturk believed in limiting Turkey's involvement in Middle Eastern affairs.
Former Egyptian President Hosni Mubarak steered clear of too close a relationship with Turkey, disapproving of the close political ties between former Turkish Prime Minister Necmettin Erbakan's Refah Party and the Muslim Brotherhood.
However, economic and political connections have shifted with the rise of the Justice and Development Party in Turkey over the past decade, which is in favor of closer relations with Arab countries.
According to Ekinci, the bilateral treaty has led to an increase in Turkey's exports to Egypt, which include iron, steel, ready-made garments and clothes, while Egypt's exports to Turkey are mostly textile goods, construction material and chemical products.
There are a total of 210 Turkish companies in Egypt, specialized in manufacturing textile goods, spare parts and garments. These companies currently employ 50,000 Egyptian workers, according to Ekinci.
"The total investments from these companies alone have reached US$1.5 billion, and in 2010, the level of trade between the countries reached US$4 billion," he said.
As for 2012, trade levels are expected to increase further by 26 percent to reach US$5 billion by the end of the year, which means that more and more investments and trade exchanges will continue to boost both economies through December.
But Turkish investors are receiving no special treatment, Ekinci said.
"Turkish investors do not want to be treated differently, because they want to have equal opportunities just like any other foreign investors," he said.
Given the similarities in cultures, traditions, politics and economics, Turkish investors have been long encouraged to invest and start projects in Egypt.
"There's absolutely no discrimination against us and we never feel it, we always feel like we are home," said Ekinci.
Strategic partners
Despite their planned projects, Turkish businessmen say that the climate for investing in Egypt is still challenging.
Akyuz said that Egyptian bureaucracy poses a particular obstacle to doing business. A simple legal procedure "takes months to get done when it could take only a few days," he said.
Other problems include workers' strikes and lack of security, which have discouraged international investment across the board. Turkish investments have proved hardier than most in the past year and a half. Businessmen say they remain optimistic and have faith in Morsy.
"Egypt is one of the best strategic partners to Turkey, and I'm sure that it will very soon settle its economic and political issues," said Ekinci.
Turkish Prime Minister Tayyip Erdogan seems to agree. When he visited Egypt last year, he put forth an economic plan that he said would increase trade levels to US$10 billion and investments to US$5 billion within five years.
"I personally believe, and talk for all Turkish investors in Egypt, that if there doubts or problems with the policies of President Mohamed Morsy, Turkey would have never provided such a loan. He is well respected and well-trusted," says Ekinci.
But it's not just good business sense, some say; it's a matter of sticking to their word.
"When the revolution happened in Egypt, Turkey was one of the very few countries that supported it, and since then it promised to help Egypt in every way possible until the country is stable again," Akyuz said.