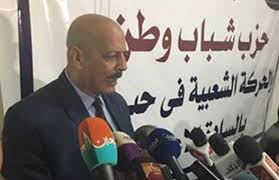 A few days after preliminary results of Egypt's presidential election showed that President Abdel Fattah al-Sisi is close to a second term in office in a landslide victory, Assistant Secretary General of the political party of Egypt 2000, Mahmoud Abo el-Leil, filed a lawsuit to the Administrative Court of the State Council demanding the suspension of political parties that boycotted the elections.
Abo el-Leil also demanded that any person holding a public office to be deprived of assuming leadership positions if he or she is found to have boycotted the elections.
According to the lawsuit filed, "the National Electoral Commission (NEC), opened the polls on Monday, Tuesday and Wednesday, but some parties did not urge voters to participate, failing to abide by their national duty in educating Egyptians of their political rights."
Egypt's National Election Authority (NEA) said on Wednesday that it would work to enforce the provisions of the law to impose a fine of LE500 on eligible voters who abstained from casting their votes in the presidential election.
The NEA called on all eligible voters to cast their votes and practice their free choice by participating in the country's democratic event.
The NEA pointed out that imposing fines on legible voters in cases of a failure to vote is legally permitted and must be enforced in respect of the law, which, they say, is a practice applied in some other countries across the world and not limited to Egypt.
It stressed that voting in the election is a national duty as it contributes to Egypt's future and decision-making in the next stage.
The chief of the Central Agency for Public Mobilization and Statistics (CAPMAS) Khayrat Barakat said on Thursday that the Egyptian presidential elections saw high turnout as women and elderly men played a main role in the elections.
Preliminary indicators and exit polls indicate that an estimated 25 million people participated in the 2018 Egyptian presidential election, bringing the election turnout to 40 percent. Results indicated that presidential candidate Abdel Fattah al-Sisi obtained approximately 23 million votes, accounting for 92 percent of total votes. His competitor Moussa Mostafa Moussa is estimated to have obtained 3 percent of the vote.
The National Election Authority (NEA), headed by Lasheen Ibrahim, will hold press conference to announce the official results of the presidential election on April 2, at the State Information Service's (SIS) headquarters.
During the conference, the NEA will announce the number of valid and invalid votes, and the votes which the two presidential candidates obtained from voters abroad as well as voters inside Egypt.