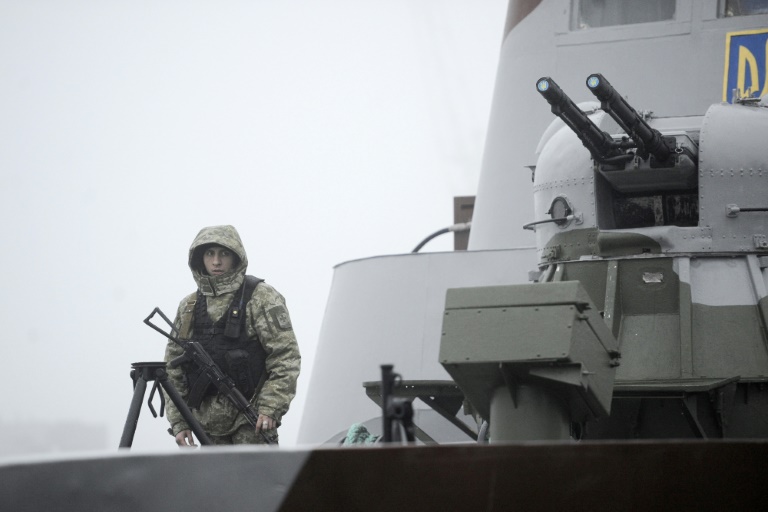 Ukraine's president signed an act imposing martial law in border regions on Wednesday as mounting tensions over Russia's seizure of Ukrainian ships saw US President Donald Trump threaten to cancel talks with Vladimir Putin.
President Petro Poroshenko's spokesman confirmed he had signed the act, which introduces martial law for 30 days in 10 regions bordering Russia, the Black Sea and the Azov Sea.
The move came after Poroshenko warned of a build-up of Russian forces near Ukraine's borders, escalating the most dangerous crisis in years between the ex-Soviet neighbors.
Western governments have accused Russia of acting illegally in seizing the three ships and Trump has said he is considering cancelling planned talks with Putin at this week's G20 summit in Buenos Aires.
Trump said he would make a final decision after hearing a report from national security advisers on this weekend's incident.
"That will be very determinative," Trump told the Washington Post. "Maybe I won't have the meeting."
Russian border patrol boats fired on, boarded and seized the three Ukrainian vessels, along with 24 sailors, on Sunday off the coast of Crimea.
The Ukrainian vessels — a tug and two gunboats — were trying to pass through the Kerch Strait from the Black Sea to the Azov Sea, but were refused access and chased into international waters by 10 Russian vessels.
Military build-up claimed
Poroshenko said on Tuesday that the number of Russian units near the border with Ukraine had "grown dramatically", with a threefold increase in the number of Russian tanks.
"I don't want anyone to think this is fun and games. Ukraine is under threat of full-scale war with Russia," Poroshenko said.
The Ukrainian parliament on Monday voted in favor of Poroshenko's request for martial law, which gives authorities the power to mobilize citizens with military experience, regulate the media and restrict public rallies in affected areas.
It was unclear how it would be applied in the border areas and Poroshenko has suggested it is meant essentially as a preventative measure.
The prospect of martial law had already led to the relocation of a football match scheduled for Thursday between Arsenal and Ukrainian side FC Vorskla to Kiev from the city of Poltava, even though Poltava is not in one of the affected regions.
Defense systems deployed
Sunday's incident was the first major confrontation at sea in the long-running conflict pitting Ukraine against Moscow and Russian-backed separatists in the country's east.
It has raised fears of a wider escalation — in a conflict that has killed more than 10,000 people since 2014 — and prompted international calls for restraint.
Russian military officials said Wednesday that Moscow would soon deploy more of its advanced S-400 air defense systems in Crimea, which Russia annexed from Ukraine in 2014.
One more of the systems would be joining three others already deployed in Crimea, they said.
Kiev has angrily demanded the return of its ships and the release of its sailors, but on Tuesday a court in Crimea ordered 12 of them to be held in pre-trial detention for two months.
Three hospitalized sailors were also formally detained for two months. The rest are to appear in court on Wednesday.
Kremlin expects Putin-Trump talks
Russia has accused the sailors of illegally entering Russian waters, in what officials in Moscow said was a planned provocation by Ukrainian authorities.
Western governments have rallied behind Kiev in the dispute, accusing Russia of illegally blocking access to the Sea of Azov and of taking military action without justification.
The European Union, Britain, Canada, France, Germany and others expressed support for Kiev on Monday, in statements pro-Kremlin newspaper Izvestia denounced as "predictably anti-Russian".
Putin has blamed Kiev over the incident, warning Ukraine against any further "reckless acts".
On Wednesday Kremlin spokesman Dmitry Peskov said he expected the meeting with Trump to go ahead.
"The preparations are continuing. The meeting is agreed. We don't have any different information from our American colleagues," Peskov said during a daily briefing.
Putin spoke by telephone with Turkish counterpart Recep Tayyip Erdogan, the Kremlin said.
It said the two discussed security in the Black Sea "in the context of the dangerous incident provoked by authorities in Kiev".
Erdogan also spoke with Poroshenko, the Ukrainian leader's office said, to discuss "Russia's brazen act of aggression".