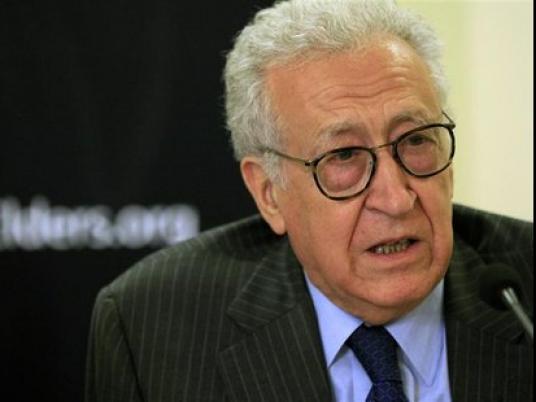 International mediator Lakhdar Brahimi called on Sunday for talks between the Syrian opposition and an "acceptable delegation" from the Damascus government on a political solution to the country's 23-month-old civil war.
After a meeting at Arab League headquarters in Cairo, Brahimi said negotiations could begin on United Nations premises. He gave no specific location.
Opposition Syrian National Coalition leader Moaz al-Khatib offered last week to hold talks with President Bashar al-Assad's ceremonial deputy, Farouq al-Shara, on a political transition in which Assad would be given safe passage to go into exile.
Alkhatib's initiative, widened by the SNC leadership to an offer to talk to any Syrian representative not directly involved in repression, "has opened the door and challenged the Syrian government to live up to what it has been continuously saying, that it is ready for dialogue and a peaceful solution," Brahimi said.
"We believe that if a dialogue begins at the offices of the United Nations, at least at the start, between the opposition and an acceptable delegation from the Syrian government, we think this will be a start to get out of the dark tunnel."
It was unclear whether he had received any indication of Syria's willingness to enter into talks with Khatib and the SNC. An estimated 70,000 people have been killed since an uprising against Assad began in March 2011 after the overthrow of veteran authoritarian rulers in Tunisia and Egypt.
Arab League chief Nabil al-Araby said he will travel to Russia, one of Assad's main foreign allies, on Tuesday for talks with representatives of four Arab states. Syrian Foreign Minister Walid Moualem is also due to visit Moscow later this month.