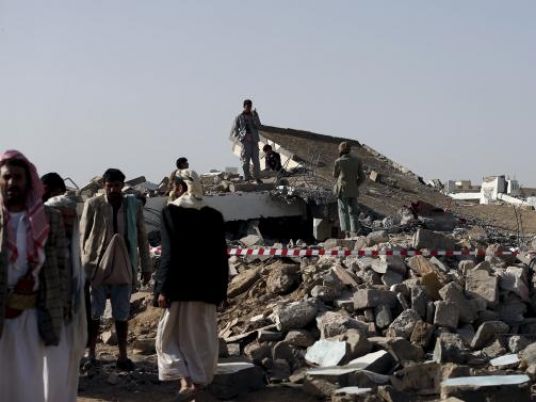 Saudi-led airstrikes targeting a military camp killed eight civilians in the central Yemeni city of Taiz on Sunday, a medical source said.
The air raids were aimed at a site held by soldiers loyal to former Yemeni President Ali Abdullah Saleh, who have joined up with Iranian-allied Houthi rebels against local militias in the south, the source said.
Saudi Arabia and its Sunni Arab allies began air strikes against the Houthis more than two weeks ago, hoping to halt their advance toward the southern port city of Aden.
The campaign has raised fears that a sectarian proxy war between rivals Riyadh and Tehran will heat up and further destabilize the Middle East.
Saleh is still highly influential in the military despite having given up power in 2012 after mass protests against his rule, and troops loyal to him are believed to be backing the Houthis.
Saudi Arabia is concerned that the violence could spill over the border it shares with Yemen, and is also worried about the influence of Shi'ite Iran, which has denied Saudi allegations it has provided direct military support to the Houthis.
While the Houthis deny getting help from Shi'ite Iran and say their armed campaign is designed to stamp out corruption and Sunni al Qaeda militants, Saudi Arabia and its allies describe them as an Iranian-backed threat to regional security.
The United Nations says the conflict, in which the Houthis seized the capital Sanaa in northern Yemen in September, has killed 600 people, wounded 2,200 and displaced 100,000 others.
Saudi Arabia's Defense Ministry statement said more than 500 Houthis had also been killed in fighting on Yemen's border with the kingdom since the conflict began, but it did not say how it arrived at that figure.