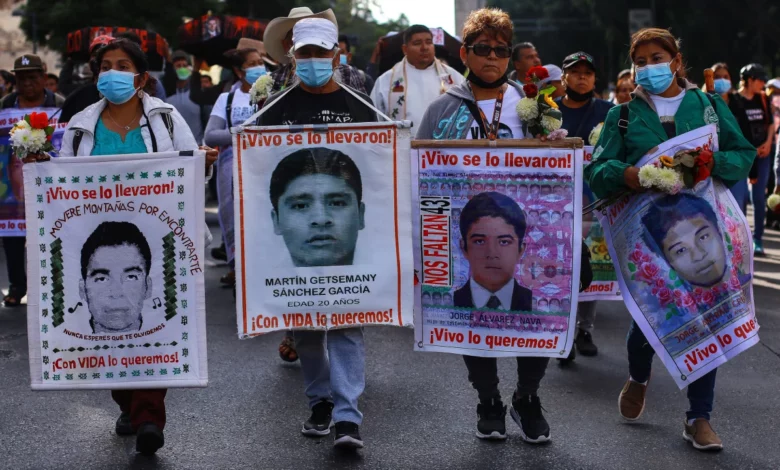 Mexico City
CNN
 —  The United Nation's human rights commissioner on Thursday accused Mexico's military of obstructing an expert investigation into
the disappearance of 43 students
in a bloody incident that shook that country nearly nine years ago.
Last August, a Mexican truth commission report concluded that the students, who disappeared en route to a demonstration in Mexico City, had been victims of "state-sponsored crime."
The students, from a teachers' college in Ayotzinapa, were intercepted by local police and federal military forces while traveling through the southwestern city of Iguala in September 2014.
Survivors from the original group of 100 students said police officers and soldiers suddenly opened fire. But dozens of students on the buses disappeared that night, and their fate remains unknown.
An expert panel (GIEI) investigating the incident said earlier this week that it had not received adequate access to information and that the experts had no choice but to withdraw from the investigation and leave Mexico.
Its report was followed by Thursday's statement from the Office of the United Nations High Commissioner for Human Rights in Mexico, which said Mexico's Armed Forces did not provide all the information requested by an independent panel investigating the disappearance.
"Since its creation, the GIEI has established the need to receive exhaustive and truthful information from all the authorities to clarify the facts of the forced disappearance of the students and other serious violations of human rights. Within this framework, the OHCHR deeply regrets that, despite the political will expressed by the federal government at the highest level, the Armed Forces have not provided all the information requested," the OHCHR statement reads.
Mexico's president has, however, pushed back on the claims, defending the military's level of cooperation.
"If progress has been made, it's because of the cooperation of the navy and the army," Mexican President Andrés Manuel López Obrador said during a press conference saying Thursday.
The priority is to keep searching for the missing students, he said, adding that 115 people have already been detained, including two generals and a former prosecutor.