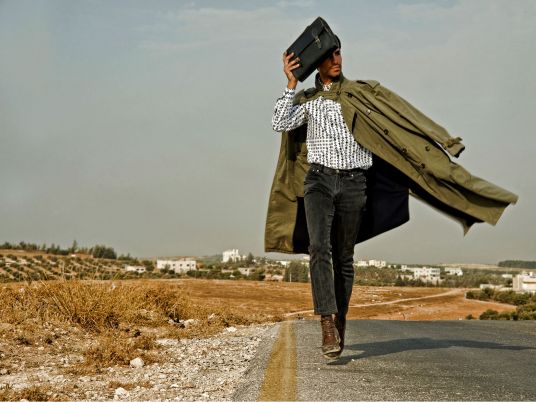 After eight years, the Middle East's first LGBT-inclusive magazine could expand its publication into Arabic as early as October, says Khalid Abdel-Hadi, founder and creative director of
My.Kali magazine
.
Since 2007, the English-language webzine (online magazine) has woven LGBT themes with photography, art and music, projecting to a diverse audience across the MENA region from its base in Amman, Jordan.
Abdel-Hadi says the daring move to expand into Arabic could be risky, as it would open up the LGBT-friendly magazine to a more conservative and less tolerant audience.
Though the Jordanian society is more laissez-faire than Egypt, Abdel-Hadi says, the magazine has still exercised caution in the conservative country. My.Kali is known in Jordan for highlighting the LGBT cause and its conceptual visual works, and has often appeared in local and international news. "Jordan is a very traditional country, and we're considered controversial in Jordan for simply breaking the stereotype and stepping out of norm," he told Egypt Independent.
For the expansion, the magazine is in the process of hiring an Arabic-writing team as well as translators to be ready to produce content in Arabic ideally by October. My.Kali initially began testing the Arabic-speaking audience by posting bilingual statuses and social media posts, but so far, Abdel-Hadi says, the feedback has been encouraging. "We're throwing softballs once in a while and seeing how things go," he adds.
My.Kali featured actress Lara Sawalha portraying "The Modern Doll of Eve" on the cover of the Sept/October 2012 issue.
Abdel-Hadi says the magazine is willing to risk an expansion into Arabic in order to stay true to its target readers in the Middle East, most of whom speak Arabic as their native language and may not speak English. "It's not about reaching more people," he explains. "I don't want the publication to appeal to a certain audience. I want the publication to be reached by all, and not feel like it's excluding anyone."
The expansion of the magazine is also part of a wider mission to remove barriers in the MENA region and engage a diverse audience in LGBT issues. Part of that has also involved featuring both LGBT and non-LGBT artists, writers and public figures to discuss these and other social taboos.
"I think with each star we feature, the debate is initiated [among the readers], whether they're gay themselves or whether they're just doing an appearance," Abdel-Hadi says.
One of the celebrities featured in the magazine was Riyadh-based a capella artist
Alaa Wardi
, known for his musical parody on YouTube called "
No Woman, No Drive
", who appeared in the magazine to discuss his music. Abdel-Hadi says Wardi's appearance in the magazine generated debate about his sexuality and his support for the gay community despite the fact that he was merely discussing his work.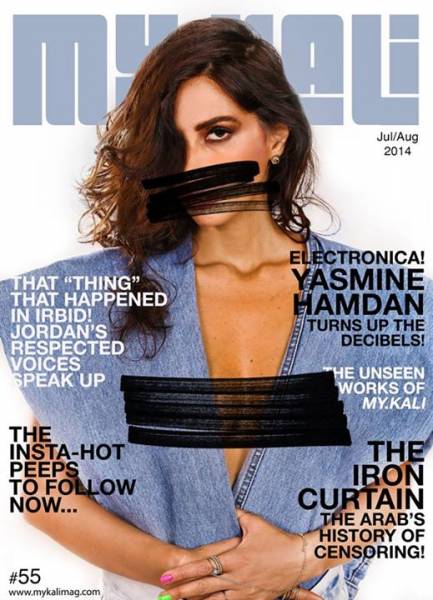 Musician Yasmin Hamdan was featured on the July/August 2014 cover in protest of Amman's municipal ban against women singing during Ramadan.
"And it wasn't only Wardi, but almost every other artist we feature, the same debate occurs," Abdel-Hadi explains. "One of the magazine's goals is to promote acceptance and remove the partition and we try to do so through our cover stories. Featuring all those artists, celebrities and public figures does help."
Abdel-Hadi says Jordanian actress Jana Zeineddine became an online sensation when she came out in support of the homosexual community in her
2012 interview
:
I believe you are born with your sexual orientation. In all honesty, I used to hope that my children don't turn out gay simply because I feel like it's a much harder life, and gay people all over the world still face severe discrimination, bullying and violence. Who would want that for their child? But my husband, who disagreed with me at the time, challenged my fears by saying "who doesn't struggle in life? Who doesn't have it hard?" The reality is, when you become a parent, the last thing in the world you want is for your child to be inflicted by any pain or harm. You will do anything to protect your child from such harm.
However, at the end of the day, I want my child to be a happy child who grows up into a happy adult – whether they're gay or straight is not really for me to decide. So, I can say my perspective on this subject has changed in recent years. I want to raise a healthy, happy and successful individual and hope that whatever their sexual orientation, they live their life to their greatest potential. My role as a mother is to pave the way for that to happen. As for mothers who 'blame themselves for the children's sexual orientation', all I can say is, love your child no matter what and accept them as they are, for you have no control over who they are or what they want in life.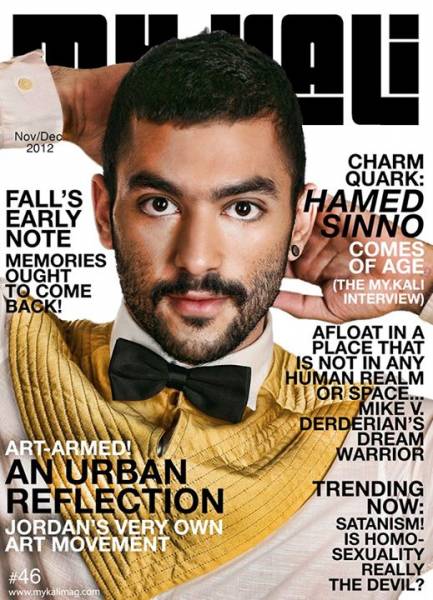 Leader singer Hamed Sinno from the alternative rock band Mashrou' Leila is pictured in the November/December 2012 cover of My.Kali.
Despite its uniquely online presence, the magazine still puts heavy emphasis on an attractive visual layout and produces a cover for each issue. Recently, My.Kali featured Sarab Yasin, arguably Jordan's most well-known transgender woman. My.Kali was also the first in 2012 to feature Hamed Sinno and Haig Papazian, from the Lebanese alternative rock band Mashrou
'
Leila, as solo covers. Actress Lara Sawalha was featured in a risqué pose for the September/October 2012 cover.
"The magazine loves to feature these artists as they're also more free and liberated to speak up about social issues, like the case of LGBT and woman rights… etc. and they're more adventurous to try experimenting with photography with us and our creative team," explained Abdel-Hadi.
Though the magazine is often labeled as "gay", Abdel-Hadi says My.Kali isn't only for LGBT readers and only about LGBT issues, but rather a powerful and diverse colllection of art. "We want our readers to have other interests and speak to their other minds rather than make them focused on the issue and only this issue," he said.
The magazine's name My.Kali partially originated from "Kali", a nickname for "Khalid", Abdel-Hadi explained in an an interview with the UK radio
Gaydio
. Thus, the meaning of the title to him became synonymous with "Khalid's". By putting his name, he said, it represents owning something he never had the chance to, yet shares with others.
"Creating My.Kali was for the purpose of expressing myself; my attempt to capture time and protect it from being disposed. It can't be touched, it can't be thrown out, it's mine and it's everybody else's," he said.