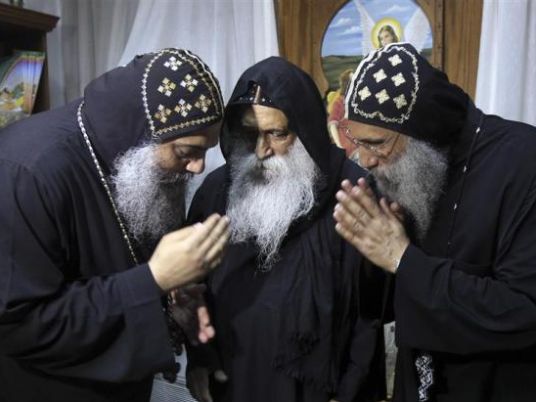 A Coptic man was shot by militants upon his return to al-Arish on Saturday. He had left the city three months ago as part of a mass exodus due to threats of violence from Islamic State-affiliated militants.
Nabil Saber Ayoub returned to Arish without his family as he owns a barbershop and a house there. He was shot in front of the shop.
He had left with his family, along with nearly 400 other families who fled to Ismailia in February, in the wake of wide-spread violence, killings, kidnappings and threats to wipe out Egypt's Christian minority, an Arish resident said on condition of anonymity.
"Ayoub returned because he did not find any job opportunities in Port Said or Ismailia; he decided to return to work in his barbershop in order to provide for his family who are now in Ismailia," the resident explained.
Since the end of 2016, Coptic Christians in Egypt have been subject to a rising number of attacks, mainly in North Sinai but also in Cairo, Alexandria, Tanta and Minya, which targeted their places of worship.
The Islamic State released a video titled "Fighting All Infidels" which included footage of a Sinai Province militant who the terrorist group allege is the suicide bomber from a December 2016 attack on worshippers in the Abbasyia Cathedral, which left 29 dead.
The militants in the video also threaten to wipe out the minority who comprise about 10 percent of Egypt's 91 million population.
The IS-affiliated media outlet al-Nabaa recently published an interview with the alleged militant leader in Egypt. He told Muslim Egyptians to avoid approaching police and army headquarters, checkpoints and other places where state security personnel may be stationed. He also warned against approaching churches as Christian places of worship, along with places police and army personnel frequent, are targets for militants.
"We warn you [Muslim Egyptians] from approaching places of Christians in Egypt, as well as places where army and police forces frequent — these are our targets and our militants seek to destroy them at any time, so watch out," the alleged militant leader was quoted as saying in al-Nabaa.
The official IS online magazine Rumiyah has published similar threats and said that Copts will be abducted from churches.
Copts who arrived in Ismailia in February after fleeing Arish city stated that the Sinai Province group there pledged to kill them if they continue to reside in Arish. The group restricted them to two alternatives if they do not leave: convert to Islam or pay jizya (money paid by followers of other religions under Islamic rule in return of freedom of belief).