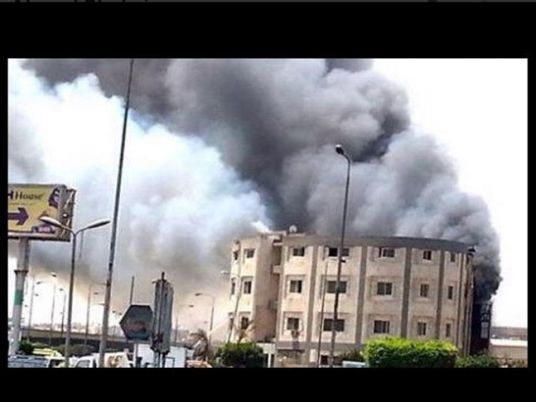 Manpower and Immigration Minister Nahed al-Ashry agreed to construct fire stations in 52 industrial areas across the country on Wednesday.
Ashry chaired a meeting on the establishment of a sophisticated system for rapid intervention and early detection of accidents and disasters in industrial areas.
Investors, as well as representatives from the Egyptian Federation of the Chambers of Commerce and the Federation of Egyptian Industries, attended the meeting.
Ashry stressed the importance of work safety, saying it is a common responsibility throughout many ministries.
Participants agreed to establish control rooms and rapid intervention teams, as well as an early warning system, in all industrial areas.
They also agreed to postpone the execution of the project, which they described as major and would take some time. They have chosen to immediately implement a means of reducing the likelihood of fires or limit their effect in industrial areas.
The alternative project will include the construction of fire stations in 52 industrial areas. Each unit will include no less than five fire trucks.
The Manpower and Immigration Ministry will provide logistical and technical support for the project and work on overcoming administrative obstacles in coordination with other official bodies, according to the minister.
Investors and the Federations of Industry and Commerce will provide funding to buy the fire trucks, she added.
Fires throughout the country have had a large impact on both factories and people over the summer:
– Furniture factory fire killed 25 people and injured 22 others on July 28, in the El Obour industrial city approximately 35 km (22 miles) northeast of Cairo.
– On the same day, a fire at a food market in Alexandria left 11 people injured.
– On August 7, a fire broke out in a sizeable cardboard factory in the second industrial zone of the 10th of Ramadan City, resulting in the destruction of large amounts of raw materials, as well as finished products. Losses were estimated at LE1 million.
– A glucose factory fire in the Mostorod area of Shobra al-Kheima, Qaliubiya governorate killed five people and injured seven others on August 8
– On August 28, the al-Nada air-conditioning factory in the El Obour industrial city caught fire, the result of a short circuit. No victims were reported.
– A plastics factory fire in the al-Mansheya al-Gedida area of Shobra al-Kheima in Qaliubiya on August 31 resulted in an estimated LE20 million loss.
A study conducted by the National Center for Social and Criminal Research in 2002 estimated the annual loss due to fire in Egypt at LE28 million.
The study estimated that there were approximately 20,000 fires per year, leading to 225 deaths and between 740 and 750 injures.
Fires increase during the summer in Egypt due to high temperatures.