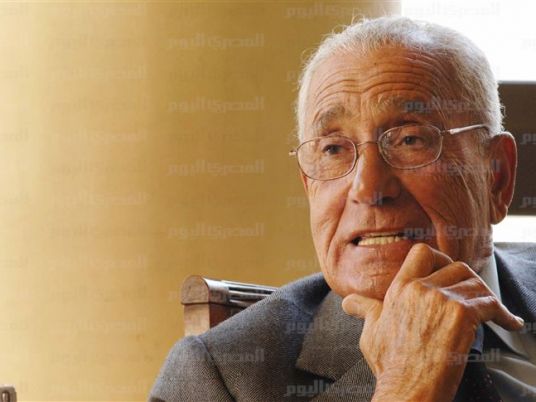 Leading Egyptian journalist Mohamed Hassanein Heikal died on Wednesday at the age of 92 after suffering from kidney problems.
Heikal's journalism career spanned more than 70 years and he was witness to various regimes and revolutions.
The Arab world's best known political commentator was born in 1923 in Qalyubiya governorate. His journalism career began in 1942 when he covered the Second Battle of El-Alamein during WWII. He was then hired by the Egyptian Gazette in 1943.
Heikal then joined the government-affiliated weekly magazine Rose al-Yussef and in 1953 he became the editor of Akher Saa weekly magazine. In 1956 and 1957 he served as editor of the daily newspaper Al-Akhbar.
He was a member of the Central Committee of the Arab Social Union from 1968 to 1974.
Heikal was a longtime friend of President Gamal Abdel Nasser, and after Nasser's death he became a good companion to Anwar Sadat. However, Sadat and Heikal had a falling out after the latter disapproved of the president's negotiations with Israel. The discord between the two led to Heikal's imprisonment. He was later released when Hosni Mubarak became president.
In 1954 he became editor-in-chief of Al-Ahram newspaper, which ranked as one of the top ten newspapers during his tenure. Heikal improved the newspaper's objectivity and lightened its sensational tone during his time as editor-in-chief.
Heikal opened the Al-Ahram Strategic Studies Center in 1968, which marked his leap into independent research. He left Al-Ahram newspaper on the February 2, 1974.
In recent years, Heikal hosted on show on Al-Jazeera on which he discussed his career as a journalist and presented an overview of discussions on the fall of the Ottoman Empire and the rise of modern era. The show gained Heikal greater fame in the Middle East.
In September 2003, Heikal began writing a monthly article in the magazine Weghet Nazar. On one occasion, Heikal wrote that it was time for the "old warrior" to put down his pen and take to the sidelines. The words didn't mark his complete exit from the limelight, but he moved towards a more observatory role.
Heikel wrote numerous books, including "The Gaza-Jericho Agreement", "The Weapon and the Politics", "Egypt's Copts are not a Minority" and "The Storms of War and Peace".