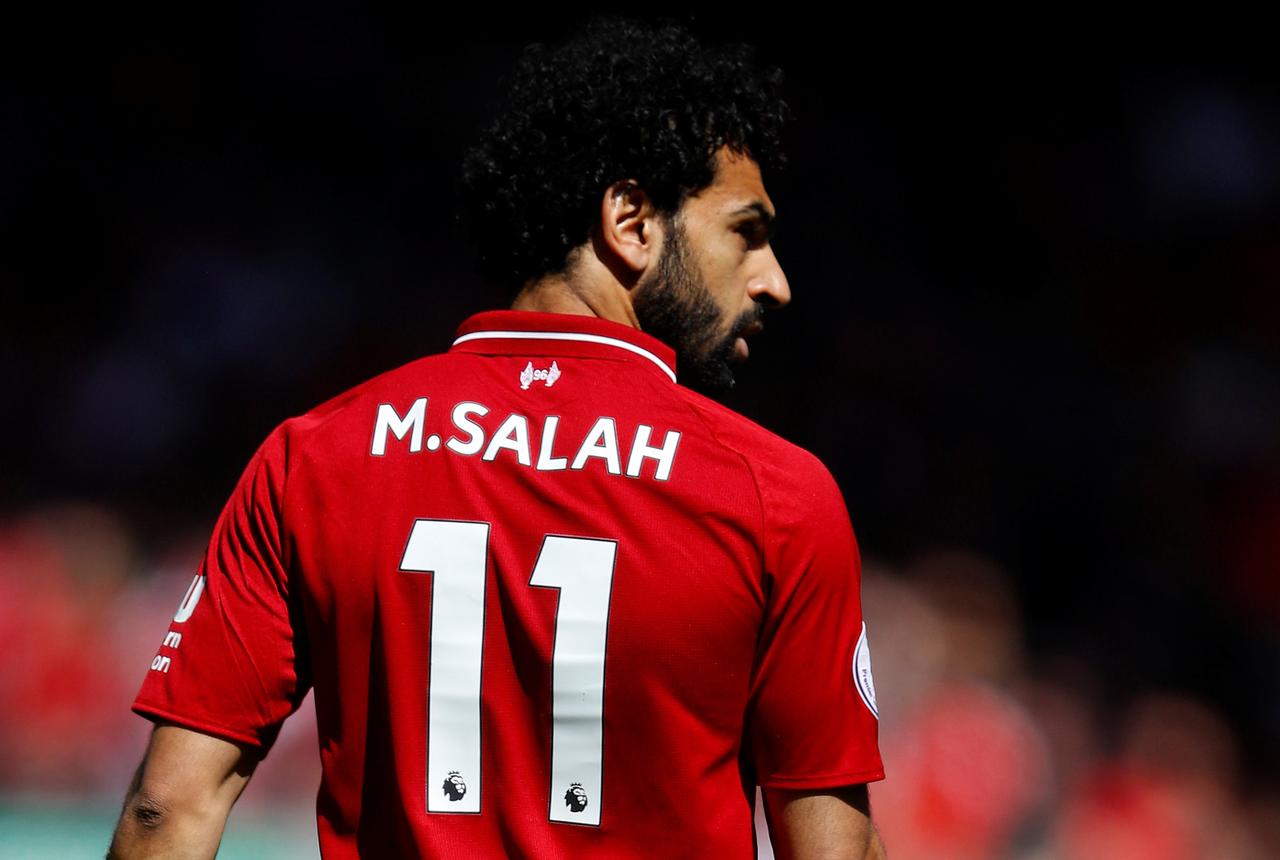 Egyptian football star and Liverpool forward Mohamed Salah made the The Union of European Football Associations' (UEFA) list of the 50 best European football players in the running for Team of the Year 2019, according to the UEFA's announcement on Tuesday.
The list also includes Barcelona striker Lionel Messi, Juventus striker Cristiano Ronaldo, and Dutch-born Moroccan Ajax midfielder Hakim Ziyech.
Liverpool came in with the most nominees for Team of the Year at 10 players, including UEFA Men's Player of the Year Virgil van Dijk and Jordan Henderson, according to the UEFA announcement.
UEFA Team of the Year is an award given by the association on its website where fans vote to select 11 players out of a list of the 50 best European football stars, which are selected by the UEFA.com's editorial team based on their performance during 2019. Voting lasts until January 9th, with winners to be announced that day.
The shortlist includes five goalkeepers, 15 defenders, 15 midfielders and 15 forwards.
Goalkeepers nominated for Team of the Year include Marc-André Ter Stegen from Barcelona, Allison Becker from Liverpool, Ederson Santana de Moraes from Manchester City, André Onana from Ajax, and Jan Oblak from Atletico Madrid.
Fifteen defenders are competing for the squad, including Alexander Arnold from Liverpool, César Azpilicueta from Chelsea, Daley Blind from Ajax, Matthijs de Ligt from Juventus, Raúl Jiménez from Atletico Madrid, Joshua Walter Kimmich from Bayern Munich, Kalidou Koulibaly from Napoli, Aymeric Jean Louis from Manchester City, Gerard Piqué from Barcelona, Jan Vertonghen from Tottenham, Sergio Ramos from Real Madrid, Andy Robertson from Liverpool, Nicolás Tagliafico from Ajax, Virgil van Dijk from Liverpool, and Jordi Alba from Barcelona.
Meanwhile, 15 midfielders are also vying for the squad, including Bernardo Silva from Manchester City, Thiago Alcântara from Bayern Munich, Bruno Fernandes from Sporting CP, Kevin de Bruyne from Manchester City, Frenkie de Jong from Barcelona, Ángel Fabián Di María from Paris Saint-Germain, Fabián Ruiz Peña from Napoli , Fabinho from Liverpool – Jordan Henderson from Liverpool, Jorginho from Chelsea, N'Golo Kanté from Chelsea, David Silva from Manchester City, Donny van de Beek from Ajax, Hakim Ziyech from Ajax, and Giorgio Finaldome from Liverpool.
Forwards nominated include Sergio Agüero from Manchester City, Pierre-Emerick Aubameyang from Arsenal, Roberto Fermino from Liverpool, Sege Gnabry from Bayern, Eden Hazard from Real Madrid, Harry Kane from Tottenham, Robert Lewandowski from Bayern, Sadio Mané from  Liverpool, Kylian Mbappé from Paris Saint-Germain, Lionel Messi from Barcelona, Cristiano Ronaldo from Juventus, Heung-Min Son from Tottenham, Raheem Sterling from Manchester City, Dušan Tadić from Ajax, and Mohamed Salah from Liverpool.
During 2018-2019, Salah played more games than any other Liverpool player, scoring 27 goals, according to UEFA.
The Egyptian football star is also in the running for Time Magazine's Person of the Year and the Confederation of African Football's 2019 African Player of the Year Award.