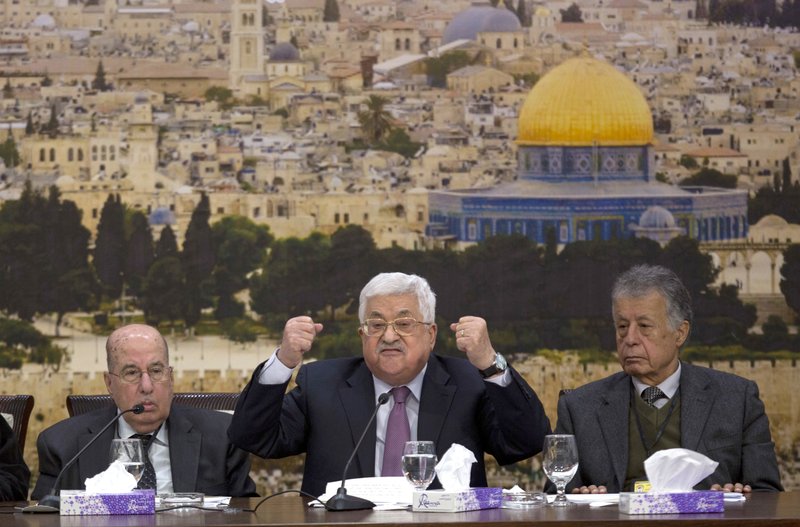 Palestinian President Mahmoud Abbas said Egypt had offered the Palestinians a piece of the Sinai Peninsula during the rule of former President Mohamed Morsi who was backed by the outlawed group of Muslim Brotherhood.
Abbas' statements came during a speech he delivered at the meeting of the Palestinian National Council, which took place on Monday in the city of Ramallah.
"Hamas agreed to this idea which was based on a Palestinian state with provisional borders, this offer was granted during the era of Morsi al-Ayyat. It was on the basis of giving us a slice of Sinai to enter our people there and live there," Abbas said.
"But we considered this issue liquidation of the Palestinian issue" Abbas explained his opinion on the aforementioned offer.
Abbas added that "there is no peace without Jerusalem, the eternal capital of the State of Palestine, and that there is no state in Gaza or a state without it."
Reports on plans to resettle Palestinians in Egypt had also been reported in 2017 by the UK based media outlet of BBC which claimed that Egypt's former President Hosni Mubarak allowed the resettlement of Palestinians in Egypt in response to US request in the 1980s.
In response to the BBC report, Mubarak released a statement denying the claims and affirmed his rejection to the resettlement of Palestinians, particularly those coming from Lebanon to Egypt.
"During the Israeli aggression against Beirut, the events were headed to inflame in the Middle East, and that was months following Egypt's regaining of Sinai on April 1982, with the arrival of the Israeli forces to Beirut, the Egyptian ambassador to Israel was recalled and I worked to save the besieged Palestinians in Lebanon," the statement read
The statement also added that Palestine's former president, Yasser Arafat, met with Mubarak while he was in exile en route to Yemen. Mubarak states he assured him that Egypt stands side-by-side with Palestine in its fight to acquire its legitimate rights.
The BBC reports unveiled documents which allege that Mubarak stated that he would agree to US demands to resettle Palestinians in Egypt, as part of a framework to settle the Arab-Israeli conflict.
That information was disclosed during a meeting between Mubarak and the British Prime Minister at the time, Margaret Thatcher, where Mubarak discussed the suggestion after a previous meeting with the US president at the time, Ronald Reagan, in February 1983, according to the unearthed documents.
In the same context, Mubarak underlined that he rejected a repeated offer from Israel in 2010 to resettle Palestinians in Sinai.