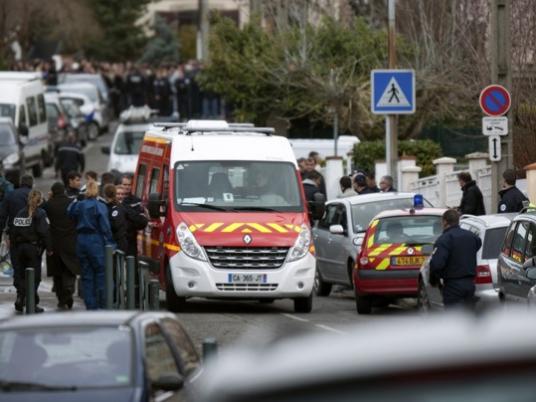 TOULOUSE, France — A motorcycle gunman opened fire Monday in front of a Jewish school in the French city of Toulouse, killing a rabbi, his two small sons and one other child, the prosecutor's office said.
It was at least the third deadly motorcycle shooting in France in a week, shocking the country and prompting strong emotions and high-level discussions in Israel. French prosecutors were studying possible terrorist links, but the motive for Monday's attack was unclear.
Concerns about a serial killer emerged, as investigators examined whether Monday's shooting was linked to two deadly shooting attacks in the Toulouse region last week that killed three French paratroopers and left another seriously injured. French media reported those paratroopers were of Arab origin.
President Nicolas Sarkozy rushed to the school, ordering increased security at Jewish and Muslim buildings around Toulouse, while his prime minister ordered officials to "secure" all school and religious buildings in France.
A 30-year-old man and his 3-year-old and 6-year-old sons were killed in Monday's attack, just before classes started at the Ozar Hatorah school, a junior high and high school in a quiet residential neighborhood, Toulouse Prosecutor Michel Valet said. Witnesses said the man worked at the school.
Valet said another child, between 8 and 10 years old, was also killed, and a 17-year-old was seriously injured.
"He shot at everything he had in front of him, children and adults," he said. "The children were chased inside the school."
Sarkozy denounced "the savagery" of Monday's attack on a school, and vowed to find the killer or killers. "We will find him," he said.
Interior Ministry spokesperson Pierre-Henry Brandet told The Associated Press that the suspect in Monday's school shootings made his getaway on a dark-colored scooter — just as the assailant or assailants did in the two shootings last week.
The school targeted Monday, behind a high white wall with few external markings, was cordoned off by police, who then escorted other children out as forensics police combed the scene.
One officer held a distraught girl, her face in her hands. A mother and son wearing a yarmulke walked away from the site, their faces visibly pained. A video camera was visible at the school's entrance.
"The drama occurred a bit before 8 am. A man arrived in front of the school on a motorcycle or scooter," Valet said, adding that the man got off his scooter outside the school and opened fire.
The prosecutor said the suspect probably used two weapons, including one of a large caliber.
On 10 March, a gunman on a motorbike shot and killed a paratrooper in Toulouse. Last Thursday, a gunman on a motorbike opened fire on three uniformed paratroopers at a bank machine in Montauban, about 50 km from Toulouse, killing two and critically wounding the other.
The Paris prosecutor's office said it will investigate eventual terrorist links to Monday's killing and the two killings of paratroopers last week. The prosecutor's office, in a statement, did not indicate any evidence so far of terrorism.
France has the largest Jewish community in western Europe, estimated at about 500,000. France also has the largest Muslim population in western Europe, about 5 million.
A man who lives near the school said he spoke with the father just before he was shot and killed.
"I said 'Bonjour' to him like normal," said the 29-year-old, asking to be identified only by his first name, Baroukh.
"Then he went out into the school entrance. I heard the shots and I turned around and saw him on the ground. He looked dead. But I didn't have much time to see who did it because I panicked and started running away."
Both the prosecutor and Brandet said there were similarities with the attack four days ago in Montauban and in Toulouse eight days ago.
"It is too early to establish a sure link" between Monday's shooting and those of the paratroopers last week, the prosecutor said. "But there are elements that justify asking very serious questions."
Forensic analysis showed the same weapon was used in the shootings in Montauban and Toulouse.
Sarkozy visited the school accompanied by Richard Prasquier, the president of CRIF, the umbrella group representing Jewish organizations.
"It's a day of national tragedy," Sarkozy said after arriving. "The barbary, the savagery, the cruelty cannot win. Hate cannot win. The nation is much stronger."
In Jerusalem, Israeli Defense Minister Ehud Barak said "whether it was a terror attack or a hate crime, the loss of life is unacceptable."
Einat Wilf, an Israeli legislator from the Independence Party, said legislators were being briefed on the shooting.
Special prayers were being offered Monday at Notre Dame Cathedral in Paris.