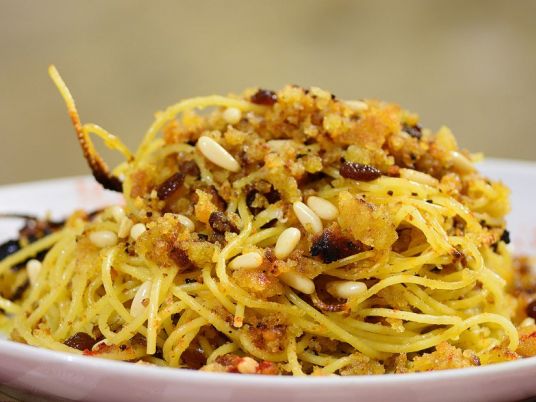 The San Francisco Museum of Modern Art has opened a gastronomic exhibit that replicates dishes from some of the top Michelin-starred restaurants around the globe allowing visitors to embark on a culinary world tour without leaving the city.
The vision of chef Corey Lee, who helms the triple Michelin-starred San Fran restaurant Benu, "In Situ" brings the cuisine of superstar chefs from France, the UK, Italy, Hong Kong, Denmark, Spain and Japan to diners at the recently opened museum.
For the exhibit-restaurant, Lee worked with chefs to faithfully recreate each dish. Dishes were either chosen from a chef's existing repertoire, or created specially for the "In Situ" exhibit.
The menu will rotate between chefs and restaurants according to seasonality.
Opening the exhibit this week, for example, is a caramelized carrot soup from Nathan Myhrvold, author of "Modernist Cuisine."
Diners can also travel to Paris without leaving town and tuck into a gourmet grilled cheese sandwich filled with Saint-Nectaire cheese and black truffle, from Astrance restaurant.
To cap off their meal, they can also sample the pastry wizardry of Dominique Ansel, who contributed his recipe for a sage smoked dark chocolate brownie.
The concept is an interesting extension of an emerging trend in the world of haute gastronomy: restaurants and chefs swapping kitchens or hosting pop-ups around the world and breaking down the barriers of brick and mortar restaurants at fixed addresses.
Overall, the list of participating chefs represents a powerhouse of some of the most influential cooks in the upper echelons of haute and trending gastronomy today.
They include chefs Massimo Bottura, whose Italian restaurant Osteria Francescana was named the world's best restaurant this week; René Redzepi of Noma in Copenhagen; Albert Adria of Tickets in Barcelona; Thomas Keller of The French Laundry in Yountville; and Seiji Yamamoto of RyuGin in Osaka among dozens of others.
The space can accommodate up to 70 guests and is open during lunch hours but will expand to dinner in the future.