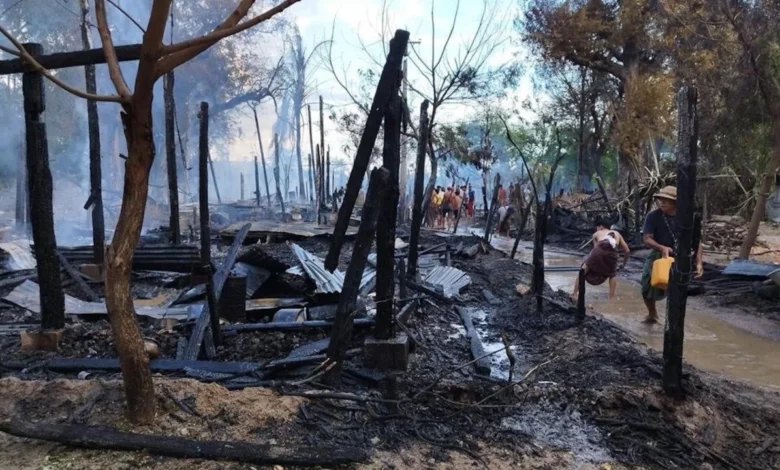 CNN
 —  Ma Khin Hla and her five siblings didn't have time to run when a fighter jet buzzed over their village in Myanmar's central Sagaing region.
"We six siblings were sitting and talking at home as our brother monk was visiting us from town," said Ma Khin Hla, 67, who asked to use a pseudonym for security reasons.
"We first heard the noises from a jet fighter. We didn't get to run as it immediately dropped bombs."
When she opened her eyes after the strike on Tuesday, Ma Khin Hla said she saw her siblings' bodies scattered around her.
"All were lying dead nearby me," she said. "My entire body is shaken by rage and numb in sadness to see my siblings killed."
At least 10 civilians died in the airstrike and more than a dozen others were wounded, local officials and eyewitnesses said, the latest deadly attack in the military junta's violent campaign for control since seizing power in a coup.
Three bombs dropped by a military fighter jet on Tuesday landed close to a monastery in Nyaung Kone village, Pale township, according to Zaw Htet, head of the town's People's Administration.
"Three women and seven men, in total 10 people were killed including a monk, while about 15 people were injured and sent to hospital," Zaw Htet told CNN.
The official also said 13 houses were destroyed in the attack.
Battles between the military and resistance groups have unfolded almost daily across Myanmar since army general Min Aung Hlaing seized power in February 2021, plunging the country into economic chaos and fresh civil war.
Airstrikes and ground attacks on what the military calls "terrorist" targets occur regularly and have killed thousands of civilians, including children, according to monitoring groups. Whole villages have been burned down by junta soldiers and schools, clinics and hospitals destroyed in the attacks.
The village struck Tuesday was part of a self-governed area in the Sagaing region not under junta control.
Administration official Zaw Htet said there were no resistance fighters – known as Peoples Defense Forces (PDF) – in the village and accused the junta of targeting civilians.
"They (the military) just came and dropped the bombs," he said. "What they did was very inhuman and cruel as if the village was the military target."
CNN cannot independently verify the incident, but eyewitness accounts match reports in local media and from Myanmar's shadow National Unity Government.
CNN reached out to junta spokesperson Maj. Gen. Zaw Min Tun for comment on the airstrike but did not receive a response.
Images from the aftermath of the attack, obtained by CNN, show the burnt embers of destroyed houses and villagers dousing water on the smoldering remains.
Ma Khin Hla, whose five siblings were killed, said she has been forced to take shelter with relatives in another village.
"My house was burned to ashes … (there's) nothing left," she said. "We were farmers … just ordinary people working in the farm."
Ar Lu, another resident of Nyaung Kone village, told CNN he helped to extinguish the fires and bury those who died.
"We buried the people in a pit altogether," he said.
Nay Phone Latt, spokesperson for the shadow National Unity Government confirmed the deadly attack.
"I condemn SAC (State Administration Council) on their target against the civilians," he told CNN, using the official name of the ruling junta. "They are deliberately doing this in order to instill the fear in the people."
In April, a junta air attack on Pazigyi village, also in Sagaing region, killed 186 people, including dozens of children, according to the NUG and eyewitnesses.
The military said it was targeting "terrorists" but eyewitnesses interviewed by CNN said those targeted were unarmed civilians enjoying a community celebration.
That attack sparked international outcry and increased calls for a ban on aviation fuel imports as well as a comprehensive arms embargo on Myanmar.
In May, a United Nations report found the junta had imported at least $1 billion in weapons and military-related equipment since its coup, with much of the equipment coming from individuals and businesses in Russia, China and Singapore.