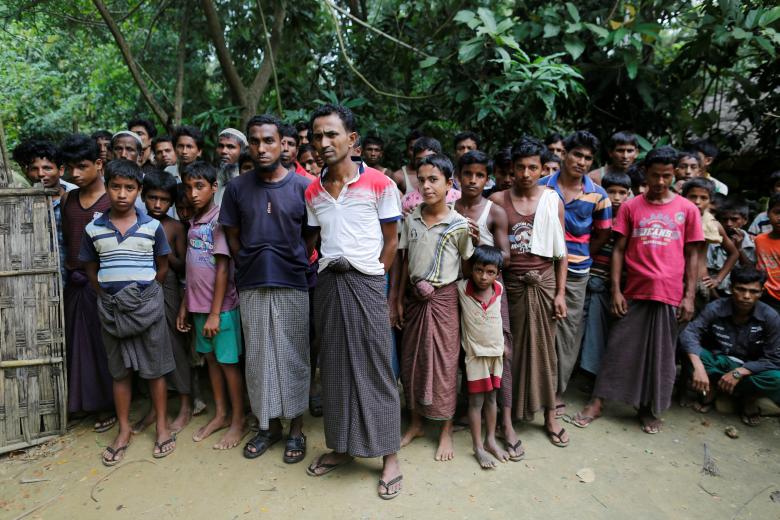 Myanmar's state media on Saturday denied Bangladesh border guards' accounts of Rohingya Muslims fleeing conflict at home by trying to cross into the northern neighbor.
A commanding officer of Border Guard Bangladesh (BGB) said on Friday his staff provided food and medicines to 82 people, including women and children, attempting to leave Myanmar but turned them back from the frontier. Two boats with 86 people were pushed back on Tuesday.
State-run English language newspaper Global New Light of Myanmar said on Saturday a newly created information taskforce had found the reports to be untrue.
"An inquiry into news reports by Reuters that nearly 200 people fleeing Myanmar had been arrested and repulsed yesterday by Bangladesh border guards has been found to be false," said the newspaper, quoting BGB officials.
Soldiers have flooded the north of Rakhine state, along Myanmar's frontier with Bangladesh, responding to attacks by alleged Muslim militants on border posts on Oct. 9.
Sixty-nine suspected insurgents and 17 members of the security forces have been killed since the violence began, according to official reports.
Earlier this month, Myanmar denied accusations by Rohingya that its military had killed people fleeing the conflict which has displaced up to 30,000 people.
Rohingya residents have told Reuters hundreds have tried to flee to Bangladesh after fighting intensified a week ago. The U.N. refugee agency has said the border should be kept open for people fleeing violence.
The conflict is the biggest test for Nobel Peace Prize winner Aung San Suu Kyi since becoming Myanmar's de facto leader seven months ago, laying bare her lack of oversight over the military, which has been accused of human rights violations against ethnic minorities in the past.
The Global New Light of Myanmar said the government planned to create an investigation commission to look into the "violent attacks in Maungtaw", the region in Rakhine at the center of the unrest.
The report did not specify whether the probe would include an investigation of allegations of human rights abuses that the United Nations, the United States and Britain have called for.