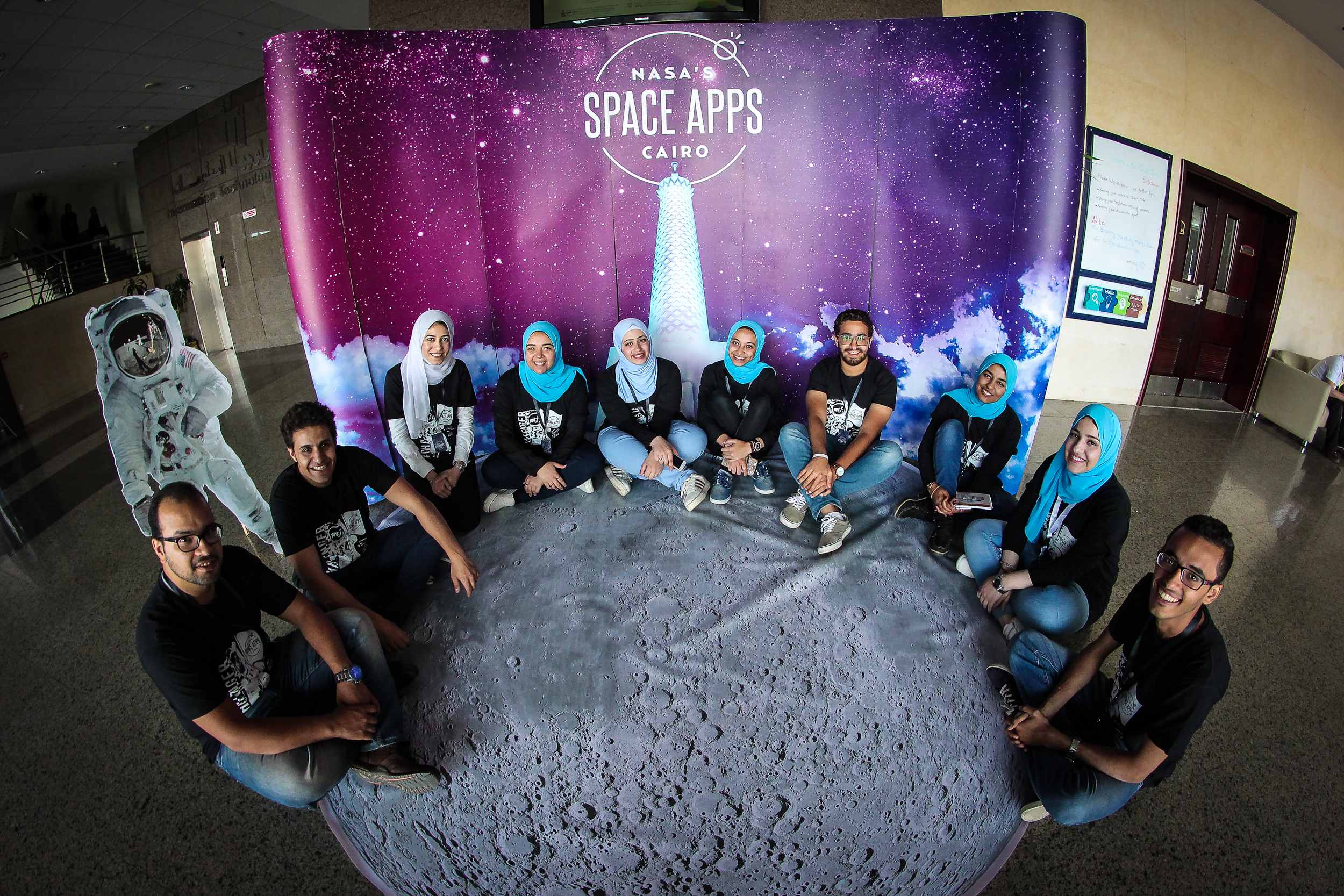 A photo from last year's Space Apps Challenge, Cairo.
Friday marked the beginning of NASA's Space Apps Challenge hackathon, held in cities around the world between 19 and 20 October. Egypt, specifically the Nile University in Cairo, is taking part in the hackathon, where it is currently hosting some of the brightest young Egyptian minds to make the world a better place.
Organized by the "EEE Egypt Section", "IEEE Young Professionals (YP) Egypt" and "NASA's Space Apps," the event is Egypt's gateway to participating in NASA's annual global challenge. At the hackathon, NASA posts a broad theme of challenges online, and then watches how youth around the world combine their talents to present diverse solutions to problems within the theme.
The project occurs on two levels: National and International. The national best projects have a chance to compete globally, while the winner gets the potential opportunity to have a leading company implement their project – in reality.
108 Egyptian teams are participating in the challenge. Ahmed Abdel Kader, Secretary of IEEE YP Egypt, told Egypt independent he was surprised to see so many young talents apply; "Applicants varied in Egypt, starting from as young as 12 years old, to high school graduates…This year's participants are much younger than the average of the past years."
"Every year," Kader continued, "NASA posts standardized challenges to the youth of the world, where they are encouraged to find a creative solution. The challenges aim to improve standards of living; some are focused on Earth, and others on space."
As president Abdel Fattah al-Sisi declared 2018 to be the year of people with disabilities, Egypt has decided to focus on projects that aid the disabled.
"After registration," he went on to explain, "groups of young people are assigned to mentors, who help them concretize their ideas and experience whether they are applicable."
Mostafa Abdel Karim, a mentor in the 2018 Nasa's Space Apps challenge, told Egypt Independent his role in considering the applicability of ideas.
"As a mentor, I direct teams to the technical support they need for the competition. I try to give them all the help they need, as a student has only 48 hours to complete the project and present it to the judges.
I encourage their ideas through providing technical support, and I give them my vision about the implementation and the presentation."
However, for Abdel Karim, the importance of this event lies not in winning or losing, but in the set of skills students acquire through the process; "Time management, project development, and presentation are now an inclusive set of skills anyone needs to succeed. [The hackathon] provides a good investment for people with skills, who want to use them to help people. It also makes them long life learners."
Egypt Independent also spoke to some of the young competitors in this year's hackathon, to get an idea about some of the problems that this year's competition will be tackling.
Competitor Adham Barakat, 12, said he found the hackathon very interesting, as he had been an inventor since a young age: "The idea of making new things and becoming an entrepreneur has always interested me.
So far, our project has been about the dyscalculia learning disability, which makes it hard for a person to do math. They can't make a connection between the number and its spelled-out letter.
Our idea is to make a long distance ear piece, which they put it in their ear to hear so that someone could tell them the answer in more than one way – whether in the form of the number, or the spelled out version."
The piece will operate using an app which, after a number is typed into it, transmits the number into a Bluetooth connected earpiece, which then spells out the number to the user.
As for Youssef Tarek, 11, his group is also making an earpiece but with a different concept, and to help a different disability.
"In my group, we are making a Bluetooth earpiece for children with minor ADHD, to help them daily through several means such as reminders. The person can put on his daily schedule on the app, and it reminds them when it is time to do something, among other things."
Barakat believes this event is a step towards reaching his long-life goal of becoming an entrepreneur, "I'm enjoying the fact that I have the chance to take our idea, and make it a reality. It certainly uses all of my creativity and logic to make me a better entrepreneur."
However, for Tarek, the hackathon shifted has his interest towards another possible career: "Spaceapps made me realize I want to work with learning disabilities as a career."
The challenge is helpful not just to its participants, but to Egypt as a country, as it helps showcase talents that many did not think existed.
Mentor Abdel Karim said that as the challenge became more popular, new improved talents began to appear, and while Egypt had never won the global challenge, he expressed optimism. Asked for his thoughts on Egypt as a global competitor, Abdel Karim said, "I think Egypt could be a global winner this year."