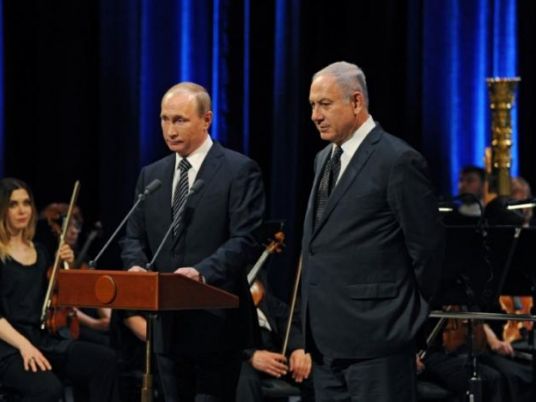 Israeli Prime Minister Netanyahu is due to meet Russian President Putin in Moscow. They're expected to discuss the growing Shia influence in the Middle East – something both leaders would like to see reduced.
Before his trip to Moscow, Netanyahu left no doubt that he was prepared to speak plainly with the Russian president. In a speech before his cabinet, Netanyahu said he was intent on reaching an agreement on the conflict in Syria. And for Israel, Iran – one of Russia's allies in the region – is at the center of the conflict.
"There is an attempt by Iran to entrench itself permanently in Syria with a military ground and naval presence," Netanyahu said. For Israel, this poses a threat. "There is also a gradual attempt to establish a front against us in the Golan Heights," he said, adding that he would "express to President Putin Israel's strong and resolute opposition to this possibility."
In recent weeks, Israel has shown how seriously it is taking this threat. The Times of Israel reported that on January 8, according to unconfirmed reports, Israel carried out a range of airstrikes on a Shia Hezbollah cell in the Golan Heights. Six Hezbollah militants and a brigadier from the Iranian Revolutionary Guard were killed, the report said. The Iranians were said to have been helping Hezbollah develop their operational might in the area. Israel is also reported to have conducted airstrikes on weapons convoys heading toward Lebanon. Since then, there have been several clashes between Israeli forces and Hezbollah.
Syria is key
According to high-ranking security advisor Chagai Tzuriel, the situation in Syria and its consequences is of utmost importance to Israel. "Syria is a key region, because it's a microcosm of everything. World powers like Russia and the United States are there, as are regional actors such as Iran and Turkey. In addition, there are rival groups within the country itself – the Assad regime, the opposition, the Kurds and Islamic State," he told DW.
What happens in Syria will have a huge effect on the whole region, one that will last for years to come, he said. Even now, developments there have
"lead to a strong imbalance in the region in favor of Iran." The presence of Iran and Hezbollah in Syria would become a constant destabilizing factor in the region, and that's something Israel wants to prevent.
If Iran and Hezbollah become established in Syria, Israel will have two of its biggest enemies directly on its border. Iran may have engaged in verbal attacks against Israel, but Israel and Hezbollah have a history of armed conflict against each other, most notably in the war in Lebanon in 2006. On the Lebanese side there were around 1,100 casualties, while Israel lost around 160 people.
Journalist and Middle East analyst Khaled Yacoub Oweis, currently a fellow at the German Institute for International and Security Affairs, says that given their history, Iran and Hezbollah may have become more careful and pragmatic.
"Hezbollah knows that an attack on Israel would have serious consequences for Lebanon," he said, adding that this could cost Hezbollah a great deal of their popularity. "Iran is also unlikely to do anything in the Golan Heights against Israel without carefully considering the consequences."
"Hezbollahistan" on Israel's border
The dangers and challenges are very diverse, however. Israel needs to engage more strongly in the Syria debate, strategy analyst Sarah Feinberg from the Institute for National Security Studies in Tel Aviv said in an interview with the Algemeiner Journal. The danger is not just limited to a few rockets that could be fired across the border on the Golan Heights. "It's much more about a permanent 'Hezbollahistan' taking shape on Israel's northeastern border," she said, referencing states such as Afghanistan and Pakistan, which are struggling with political terrorism.
These two countries are dealing with Sunni-influenced terrorism. But the brutality of the Shia militia is equal to that of the Sunnis. With their harsh treatment of Sunnis, Khaled Yacoub Oweis feels they contributed to the escalation of the conflict in Syria. Many Sunnis have suffered terribly over decades at the hands of the Assad regime. "Their fight is actually not with Israel, it is directed against the Assad regime," he said.
Warning to Iran
In Moscow, Netanyahu will likely try to find a way to contain the Shia. Iran may have been able to expand its position as a regional power in recent years, but the country mainly owes this development to Russia's military and financial engagement. "This is why Iran is very depending on Russia," said Oweis. "That's why Russia supposedly gave the green light when Israel attacked pro-Iranian military targets. In one way or another, Putin has warned the Iranians about tangling with Israel."
Netanyahu is also likely to try to get Russia to have greater regard for Israel's interests. In view of the situation with the Shia, the chances are good. Russia's Shia partners Syria and Iran have shown themselves to be independent actors capable of pushing their agenda – if need be – without Russia's support. This could also see Russia and Israel agree to cooperate more closely, as containing radical Shia groups is in the interest of both states.