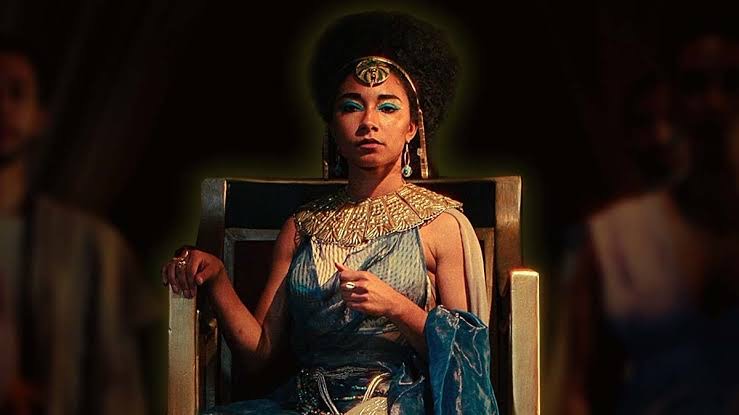 Controversy continues to rage on since Netflix announced its documentary "Queen Cleopatra", which portrayed the titular queen as black.

Lead star actress Adele James received harsh criticism alongside Netflix for 'falsifying' history.

Now she answers back, after appearing on the "THE WAYNE AYERS PODCAST" from the "Apple Podcasts" app.
Netflix's documentary aimed to shed light on what people do not understand about Queen Cleopatra, showing her as more than just the cause of conflict between powerful men, James said in the interview.
James added that people should realize that Cleopatra's intelligence allowed her to speak five languages, and to be a skillful politician.
The most important thing is how the story of Cleopatra is told, and to answer the question about her race, which has many question marks, she added.
In an earlier interview with Glamour UK, James responded to the scathing attack over her choice of Cleopatra role, saying: "The only thing I can say about it [Cleopatra's background) is that we just don't know. There are versions of Cleopatra that exist already with actresses in that role who are fairer skinned than I am, but I think I have every right to have a shot at humanizing this incredible woman."
The Queen Cleopatra star went on saying: "We all put our blood, sweat and tears into that show, and I think anybody else has as much of a right as anybody else to have a go at it because we just don't know. "
"The death threats that I've received, the racist comments, it's just the vitriol," she added.
The British actress said that attacks will not keep her away from social media, where she is exposed to trolling.
"I'm stubborn. I'm not being driven off of social media by anybody. Especially not bullies and racists," she added.
Hawass answers back protesters
Egyptian archaeologist Zahi Hawass said that during one of his lectures in Los Angeles, he was protested by people objecting to his refusal to consider Cleopatra being black.
They carried banners with slogans against him, he said, adding that they had fallen for false information.
During a phone interview with "Hadith al-Qahira" (Cairo Talk) talk show on the "al-Qahira wal Nas" (Cairo and the People) channel, Hawass stressed "We are not against blacks, and if the same situation happened with the continent of Asia, I would object to them."
He emphasized that Cleopatra was burgundy in color, and not dark-skinned, and this a fallacy bought into by African Americans.
Hawass pointed out that "our film, which we released about Cleopatra, also received international attention, and this film responded strongly to the whole world."
Critically panned
Netflix's "Queen Cleopatra" documentary has received the worst audience rating ever in TV show history on Rotten Tomatoes, according to a Forbes report.
The series got a one percent audience approval rate due to the great turnout of Egyptians to express their anger at its falsification of history, Forbes reported.
The Netflix film about the story of Cleopatra made her appear dark-skinned as if her origins were African and not Macedonian.
The "Cleopatra" documentary trailer officially has become one of Netflix's most disliked trailers, on YouTube, with more than 250,000 dislikes, which forced Netflix to close comments on the trailer, in an attempt to control the accusations brought against it of falsifying history, and preventing audience from expressing their opinions, according to the Mirror newspaper's website.