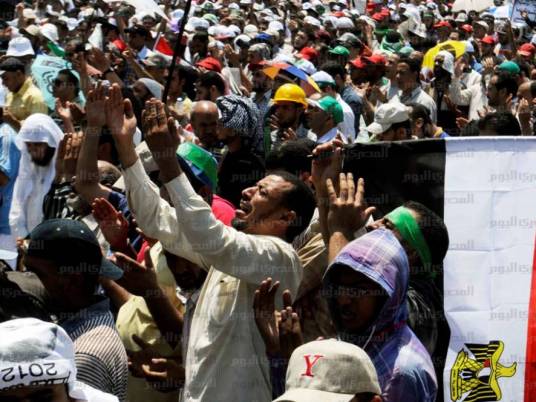 New complaints have been filed with Nasr City police station accusing Mohamed Morsy supporters of torture, sources told Egypt Independent.
Pro-Morsy protesters have been staging a sit-in at Rabaa al-Adaweya Square in east Cairo since the former president was toppled by the army in early July.
There have been many reports of torture near pro-Morsy sit-ins in the wake of the president's overthrow, which his supporters have condemned as a military coup. Amnesty International has called for an investigation into these incidents.
Nasr City police station reportedly received a complaint from 27-year-old Ahmed Mohey Eddin, a student at the Academy of Tourism and Hotel Management, accusing protesters of torturing him.
Mohey Eddin said that he was walking on Youssef Abbas Street towards Rabaa al-Adaweya when protesters stopped him and took him inside a tent where he was beaten. Mohey Eddin said he had his right arm broken and bruises on different parts of his body.
Mohey Eddin said there were six other people tied and blindfolded in the tent. He accused leaders Safwat Hegazy, Mohamed al-Beltagy, Ahmed Aref and Osama Yasin of inciting violence.
Kamal Sadeq Shenouda, 68, filed a complaint saying he was driving his taxi on Nasr Street when protesters stopped him and demanded to see his ID before beating him and breaking his left arm.
Ahmed Abdel Ghany, 33, filed a complaint saying his 10-year old son was walking with his friends on Anwar al-Mofty Street holding a picture of army chief and Defense Minister Abdel Fattah al-Sisi when a protester wearing a helmet fired birdshot at them. He added that three of his son's fingers were cut.
"We deny all of these [allegations]," Muslim Brotherhood spokesperson Gehad al-Haddad told Egypt Independent on Tuesday. "There is not a single shred of evidence to harm the integrity of Rabaa, so they come up with heinous crimes to demonise the anti-coup movement."
"The reports have some illogical references, such as saying that beating marks on bodies found close to Rabaa show signs of pro-Morsy supporters' techniques," Haddad told Egypt Independent.
"Despite constantly calling on credible human rights organizations to come to Rabaa and look anywhere they want, talk to anyone, in any tent, most come in their official capacity and only deal with cases after they happen and don't do pre-emptive work as part of their mandate."
The Muslim Brotherhood issued a statement Sunday condemning remarks by Hassiba Hadj Sahraoui, Middle East and North Africa Deputy Director at Amnesty International, claiming Morsy supporters had committed human rights violations in and around two major sit-ins in the Egyptian capital.