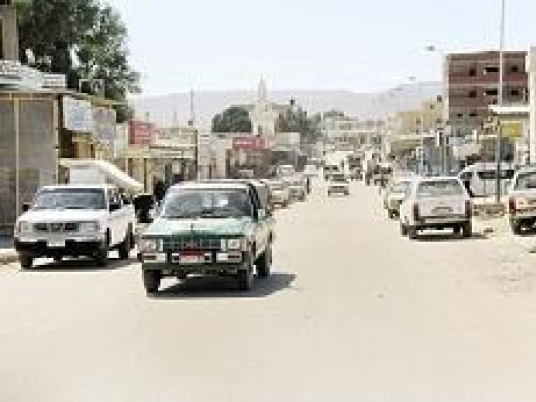 The Egyptian Cabinet issued an appendix to an earlier decree on Wednesday, with regards to the country's political borders and tightening military control on the border with Libya.
The addition to the November 2014 decree requires residents who moved to the western border city of Salloum after 1967 to obtain a written military clearance. It maintains that the Armed Forces has the sole authority to guard the country's political borders.
The decision exempts residents who have inhabited the area before 5 July 1967, granting them permanent residency in Salloum with the exception of al-Hadaba (Plateau), the area of the city which is closest to the border. These residents will merely need to have their IDs checked.
Egypt is apparently seeking to strengthen its control over its western borders as it had voiced fears of an increasing terrorist threat from that direction, with Islamist factions growing in influence in Libya since the ouster of former leader Muammar al-Qadhafi.
The beheading of 21 Egyptians by the Islamic State in Libya has further stoked Egypt's fears which led it to embark on airstrikes on the group's locations in Libya. Egypt has also sought an international alliance against extremist militants operating in Libya.
The original November 2014 decree stipulated the creation of a 1000-meter buffer zone on the borders with the Hamas-run Gaza Strip, particularly at the city of Rafah, following bloody attacks against Egyptian police and army forces in the eastern Sinai Peninsula.
Speaking to Egypt Independent, Ahmed Sebaq, a Marsa Matrouh-based reporter, suggested that the new decree, which expands the November 2014 decision to include Egypt's western borders, could turn Salloum, a long-neglected yet commercially vital city, into a military barracks.
Sebaq noted that 90 percent of the city's lands are already military-held property. News reports last month pointed to tensions between the city's residents and military authorities after the army razed several civilian properties constructed on lands claimed by the Armed Forces.The problem prompted many civilians to protest the demolitions before the crisis was resolved and and agreement was made to halt the removal of the buildings.
The city's 16,000 residents have long decried poor basic services and state neglect despite its healthy cross-border trade with Libya.
According to the Planning and International Cooperation Ministry, poverty rates in Salloum stand at 44.9 percent, the second largest poverty rate in the Matrouh governorate, where poverty afflicts 23 percent of that province's population.