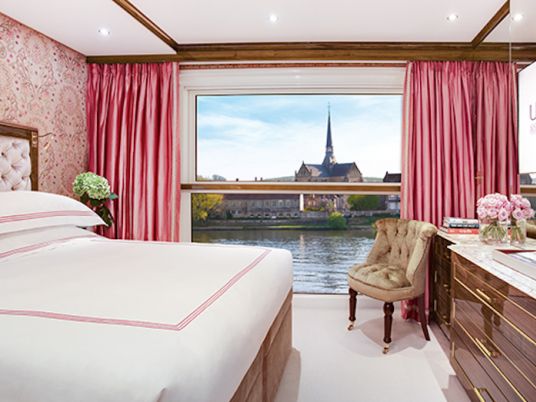 A luxury super yacht designed as an opulent floating hotel has launched on the Seine in Paris, as the rich person's version of the ubiquitous sightseeing cruise.
Aboard the SS Joie de Vivre — which translates to "Joy of Living" — there is no queueing like herd animals or jockeying for the best seat against selfie stick-toting tourists on the open-air deck.
Instead, guests board a luxury yacht equipped with a spa and wellness centre, onboard cinema, gourmet restaurant and opulent rooms decorated with handcrafted furniture, antiques and original artwork.
The vessel, which accommodates 128 guests, was christened in Paris this week by actress Joan Collins.
After sailing past Parisian landmarks alongside sightseeing cruises on the Seine, the SS Joie de Vivre continues its journey outside the city, to regions like Normandy, Bordeaux and Avignon in eight to 15-day cruise itineraries.
Guests slumber in sumptuous cabins that feature custom-designed Savoir of England beds, tufted velvet headboards, heavy drapes, Egyptian cotton sheets and marble-lined bathrooms stocked with luxury Hermes and L'Occitane bath and body products.
The Normandy cruise is pitched as the dream holiday for history buffs, as the itinerary takes guests through the medieval capital of Rouen, Monet's postcard-perfect home in Giverny, Versailles and the famed Normandy beaches.
The 15-day Paris-to-Bordeaux cruise is pitched for oenophiles and gastronomes, with an itinerary that includes wine tastings and gourmet epicurean experiences.
Prices start at around €2,800 (RM13, 214).