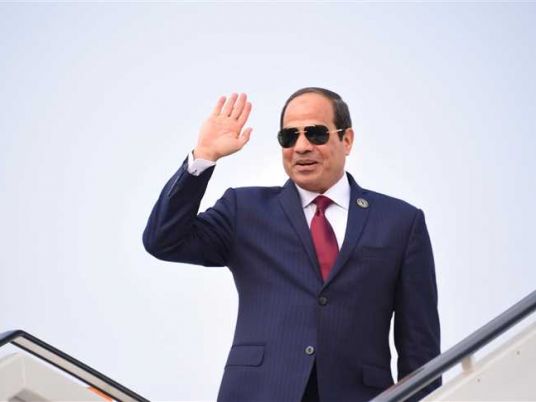 A recently launched public campaign in support for Egypt's President Abdel Fattah al-Sisi in the upcoming 2018 presidential elections claims to already have collected one million signatures.
During a conference for the campaign, that goes by the name of "A Citizen Who Supports the President" or "Mowaten Yadaam Al Raees," with residents of the Giza's district of Badrashin, campaign leader Fawzy Ramadan declared that its members trust that the president is the best man to fight terrorism and achieve economic growth within the next few years.
The campaign chose the slogan "Words from the Heart" or "Kalam Men Al Qalb" since it aims to "reflect what goes on the minds and hearts of simple citizens."
According to campaign members, the signatories are mostly peasants and workers, but also university students and professors who have lived in Egypt during Sisi's first presidential period.
Through a number of statements in the local press, Bahaa Al-Said, General Coordinator of the campaign said that its goal is to "enlighten the people to the achievements the president have made during the past years. It also gives the government credit for the efforts to build a strong country despite being the target of a vicious war."
The campaign details some of the President's achievements including fighting terrorism, achieving economic growth, fighting corruption and elevation of the standards of education and health in the country.
However, the campaign also admits that some of the latest presidential decisions were difficult for young people to understand or appreciate, saying, "we admit that a lot of people suffered on the hands of Egyptian economic decisions, that represented the sour medicine. However, in the end, they also know that this is necessary and feel completely content that the future is bright and that production will flourish… thereby reaping the fruits of their patience."
This is not the first pro-Sisi campaign since Sisi assumed his post. Campaigns have been a strategy of successive governments to consolidate and legitimize their power for the past years. Other campaigns with similar goals include "Alashan Nebniha" or "To Build It" and "Men Agl Masr" or "For the sake of Egypt."
However, with Sisi's first presidential term approaching its end, the aim of the "A Citizen Who Supports the President"  campaign is to gain 15 million signatures urging the president to run for a second term.