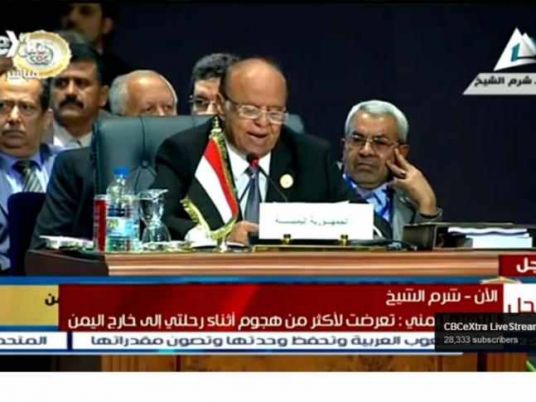 President Abdel Fattah al-Sisi agreed Wednesday in Cairo with the Yemeni President Abd Rabbo Mansour Hadi to send Egyptian soldiers to protect Yemeni south ports and to train Yemeni soldiers, according to the London-based newspaper Asharq Al-Awsat.
Hadi said Yemen will take advantage of Egyptian experts in different fields for the reconstruction of Yemen.
Hadi requested during his visit to Cairo that Egyptian Navy soldiers take part in securing Aden ports to prevent Iran's control over the Red Sea, the newspaper quoted the Yemeni Foreign Minister Riad Yassin as saying.
More than 100 armored vehicles and tanks and armored troop carriers with hundreds of Yemeni soldiers crossed the border coming from Sharourah province in Saudi Arabia to Yemen, a Yemeni military source was quoted as saying. Yemeni sources said that the legitimacy pro-army troops await orders to head to Sanaa and liberate it.
Edited translation from Al-Masry Al-Youm