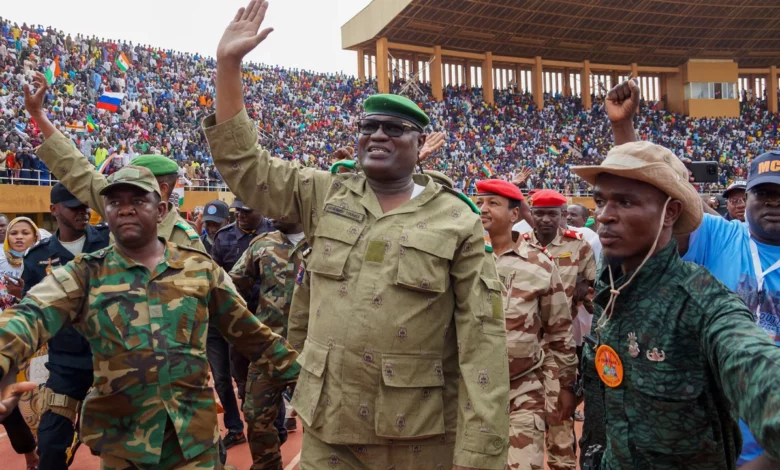 Niamey, Niger
CNN
 — 
Niger
's armed forces have been bringing in reinforcements to the capital to prepare for a potential invasion, a military source told CNN, just hours after
the military junta running the country
refused to abide by an influential regional bloc's deadline to cede power.
A convoy of about 40 pick-up trucks arrived at nightfall on Sunday evening, bringing troops from other parts of the country to both reassure a nervous public and prepare for potential battle.
Niger has been thrown in to political chaos since late last month, when President Mohamed Bazoum was ousted in a coup d'etat by the presidential guard. The Economic Community of West African States (ECOWAS) responded days later by enacting sanctions and issuing an ultimatum to the ruling military junta: stand down within a week or face a potential military intervention.
That deadline came and went Sunday without any change in the political situation. Bazoum remains deposed and his whereabouts are still unknown to the public. The National Council for the Safeguard of the Homeland, the junta's formal name, is still effectively in charge of Niger. A junta leader said Sunday that Niger's armed forces would be closing the country's airspace due to the threat of military intervention.
What comes next is unclear. ECOWAS leaders say their preference is find a diplomatic solution to the crisis but have maintained they willing to resort to the use of force as a last resort to return Niger's democratically elected government to power.
The uncertainty has rattled residents in Niamey, the capital. Some people flocked to supermarkets purchase staples like rice and cooking oil in bulk, while others attempted to flee. Employees of local bus companies said most lines out of the capital were fully booked.
Pro-junta demonstrators, meanwhile, gathered Sunday at a 30,000-seat stadium in Niamey to voice their support for the military government and their opposition to ECOWAS sanctions.
Despite its wealth of resources, Niger remains one of the poorest countries in the world. Many Nigeriens, especially in the younger generation, still see France as an imperial power responsible for the prevailing poverty levels in their country. Those who back who back the new military government see its rule as an opportunity to distance itself diplomatically from French influence.
The future of Niger's elected government is of particular importance to the country's democratic neighbors and Western partners. The United States and France stationed hundreds of troops, many of whom assist with counterterrorism missions, on the basis that Niger was a relatively stable democracy in a region fraught with political upheaval, terrorism and Islamist insurgencies.
Russia has attempted in recent years to capitalize on the geopolitical situation in West Africa to gain clout and influence, especially through the mercenary group Wagner. Wagner has a presence in several countries, including in neighboring Mali, where a military government took charge after a coup in 2021. Wagner forces have been contracted to help local defense forces against rebellions and insurgencies, and suppress opposition.
The French Foreign Ministry said that Wagner had been in touch with the coup leaders in Niger, but it was unclear if the two sides were moving toward a partnership.
"We can see that Wagner is in an opportunistic and predatory logic, so they may be tempted to take advantage of the whole situation," a spokesperson for the ministry told journalists.
Shortly after the putsch, Wagner leader Yevgeny Prigozhin celebrated the coup and appeared to pitch the private military company to Niger's new leaders.
Niger's democratic neighbors worry the coup could have a domino effect given the fragility of West African democracies like those in Mali and Burkina Faso, where a coup took place in 2022.
Both countries are now backing the Nigerien junta. They said in a joint statement last week that they would consider any military intervention in Niger "an act of war" against all three countries.
Both countries are sending delegations to Niger's capital Niamey, "in solidarity with the people of Niger," according to the Malian Armed Forces.
Burkina Faso has not yet publicly commented on sending delegations to Niger and Burkina Faso's Ministry of Foreign Affairs has not yet responded to CNN's request to confirm their attendance.
CNN's Pierre Bairin and Mihir Melwani contributed to this report.