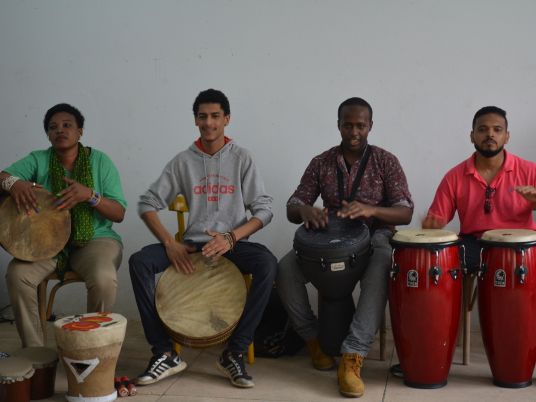 It was the unique mix of different languages from 11 Nile Basin countries that provided the theme for the creation of the Nile Project, an educational and muscial collaboration of 35 individuals.
This cross-cultural collaboration was established by Mina Girgis in 2011, with the aim of bridging the cultural gap between river countries, using music as a medium.
The multi-national musical troup performs concerts, taking their message on tour in various nations. So far, the project's musicians have done four big tours: Europe in 2016; the United States in 2015; and two in Africa, in 2014 and 2016.
Meanwhile, the educational branch offers fellowships to university students keen to explore sustainability issues relating to the River Nile.
Girgis, now the project's CEO, said that the aim of the collaboration is to bring together musicians from the various countries through which the Nile flows, with a view to arousing cultural and environmental curiosity about them.
"The band is only a mechanism to get people to become more curious about the cultures of their river neighbors and the river itself. So environmental and cultural curiosity is what the music does," says Girgis.
Girgis says that cultural curiosity helps in stimulating questions about others, as well as finding answers. However, he stresses that the project is not political in nature.
"We are not activists; we are more conveners…We bring people together," he says.
That said, he feels the lesson of collaboration can be applied in the worlds of politics and diplomacy, as with the tensions over the sharing of Nile river water. He says such issues cannot be solved simply by deciding who is entitled to which share of the water.
In some respects running a music-based collective reflects the realities of international relations. One of the main challenges is seeking to organize logistics while communicating through numerous languages.
However, as collective memeber Saleeb Fawzi explains, the difficulties have "melted" over time.
"Step by step, we have learned to get closer. … Art is, for us, a language. This is what I call the spirit of the project."
He says he has benefitted personally from the experience of being a member of a collaboration that embraces different nationalities, each with their own culture and language.
For one thing, working on the project has helped him learn other languages like Amharic. In the course of project's concerts, he has sung both Muslim and Christian songs, in both Arabic and Amharic.
Mixing between different languages in one song is one of the attributes that distinguishes the collaboration's musical genre. Some of the collaboration's singers, like Fawzi, don't only sing in their native tongue, but also in those of their musical partners.
Fawzi started as a deacon in 1990 performing musicals in a church. In 1996, he took part in El-Warsha Band and performed El-Sera El-Hylalya (an Egyptian folk tale). He established Saleeb Sufi Project in 2013, mixing Orthodox and Sufi singing.
However, Fawzi felt that there was still a gap between Muslims and Christians in this mixed band.
"I felt there was a gap. The Christian sings the Christian parts and the Muslim sings the Muslim parts. … I waited for someone to sing both and then I said to myself: 'Why am I waiting?' I started singing both and I faced criticism," said Fawzi.
"Jackline Kasiva Mutua, a Nile Project member, helping one of the percussion workshop's attendees in Darb 1718 on the 21st of October."
Another area The Nile Project works on is the engagement of university students in considering the environmental and development issues facing Nile Basin countries. The Nile River Prroject offers fellowships for 24 students from six universities, including Cairo University, Aswan University, University of Bahir Dar, Makerere University, University of Nairobi, and University of Dar es Salaam.
The chosen students establish Nile Project Chapters on their campuses. They also choose one community in their country and work on its water problems and sustainability.
As for the collaboration's future plans, Fawzi says: "We wanted to increase our tours in Africa — the tours in our continent. Mama Africa, as we call it. You discover the people and the countries. One part of my dreams is roaming Africa — all Africa. … This roaming is what remains for me as a human being before being an artist."
You can volunteer through their website or follow them, their news and concerts on their Facebook page
The Nile Project website: nileproject.org