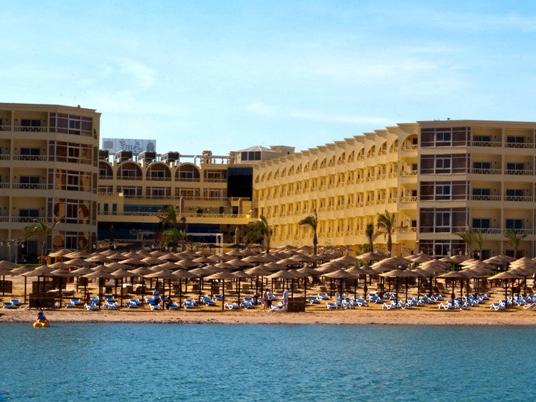 Egyptian tourism investors and workers in the sector told Reuters on Monday that no hotel reservations have been cancelled despite Friday's incident in which a man killed two German tourists, and wounded four others in Hurghada, a popular vacation city on the Red Sea.
"The incident is merely a criminal incident and not a terrorist attack because terrorism is rather organized and isn't limited to a knife or a pocket knife," head of the Tourism Investors Association of South Sinai, Hesham Ali, told Reuters.
According to a statement from the Interior Ministry, the assailant, who was arrested after the attack, had swam to the resort from a nearby public beach.
This has been the first major attack on foreign tourists since a similar assault at the same resort occurred more than a year ago, and comes at a time when Egypt is struggling to revive a tourism industry devastated by security threats and years of political upheaval.
"I do not think that the incident will significantly affect tourism inflow. There has been no cancellation in Hurghada, Sharm el-Sheikh, or Luxor yet," Ali told Reuters.
Egypt is fighting Islamist insurgents in the Sinai Peninsula, where they mainly target security forces, but militants have also attacked tourist targets in the past, as well as Coptic Christians and churches.
Reuters also interviewed a reception manager, Beshoy Shawki, at one of the major hotels in Gouna and he asserted that there have been no booking cancellations.
"But some German tourists are worried. Two of them are thinking of cutting their vacation and going back, but they are still with us so far," Shawki told Reuters.
Egypt has been hoping that improvements in airport security and the decline of the Egyptian pound will bring tourists back to its beaches and ancient landmarks.
The industry, a crucial source of hard currency, has struggled since the 2011 uprising, having faced years of political turmoil since the former president, Hosni Mubarak, was ousted.
The ministry of tourism had announced that the number of tourists coming to the country in the first three months of 2017 jumped 51 percent compared to the previous year.
Ehab Shoukry, the chairman of the steering committee of the Business Chamber of tourism companies in the Red Sea, however, said that the potential negative impact of Friday's attack in Hurghada won't hit until two weeks after the incident, when new tourists would start booking.
Minister of Tourism Yehia Rashed said on Saturday that investigations into the attack were underway. It has not been identified as a terrorist incident.
The ministry will continue to monitor the situation, he said.
Germany topped the list of visiting tourists during the first three months of 2017, followed by Ukraine, Saudi Arabia, China and the United Kingdom.