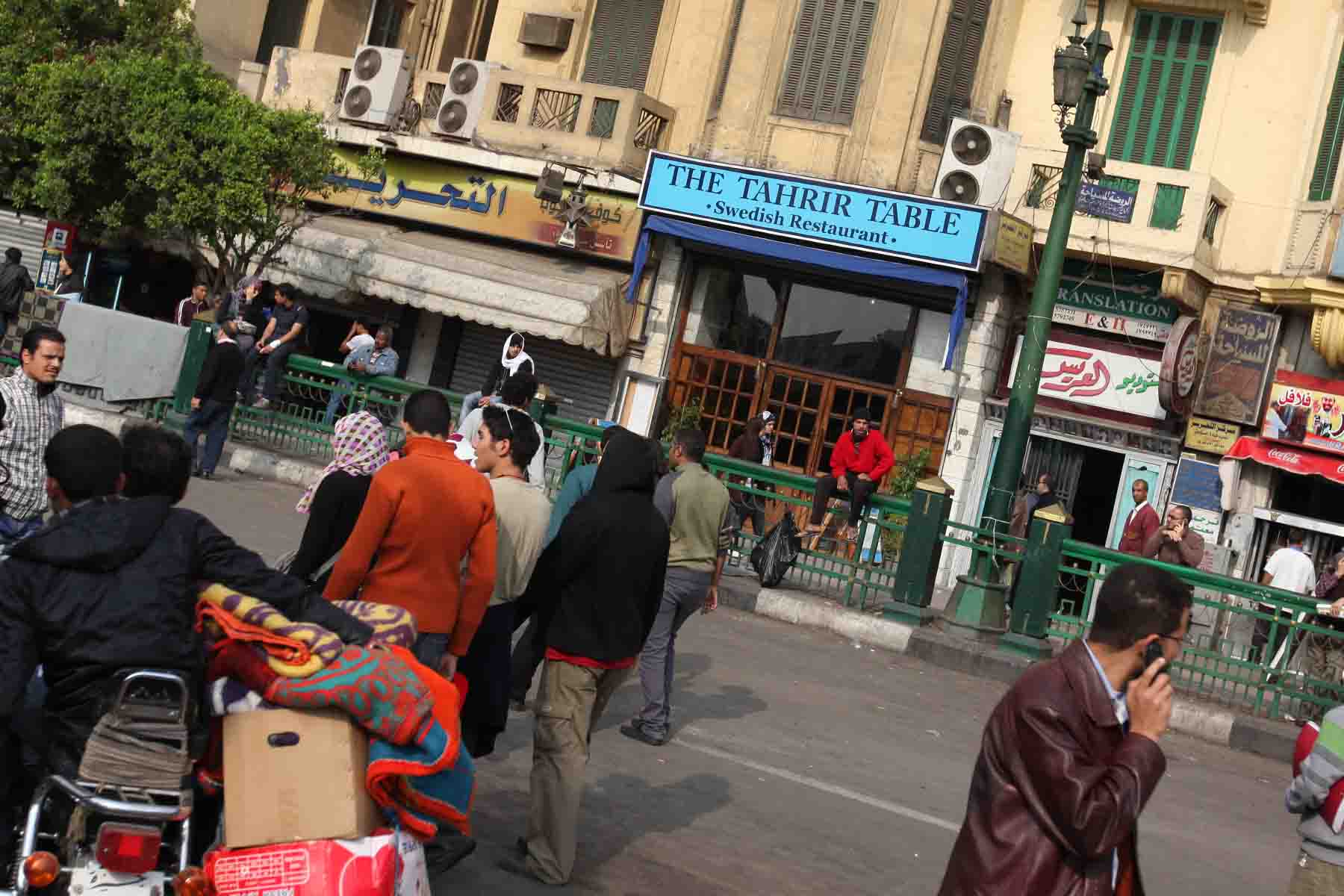 What does the peaceful and wealthy country of Sweden have in common with downtown Cairo's Tahrir Square, the staging ground of Egypt's revolution? Swedish meatballs, smoked salmon and lingonberry jam, of course.
For months we eagerly awaited the opening of Tahrir Table, a Swedish restaurant bizarrely situated on the northern side of the square. When we finally found it open on 17 November, we ducked in for a late dinner of smoked salmon on toast, poached whitefish in dill sauce and Swedish meatballs with mashed potatoes. As we sat amid the cozy, chalet-like décor of stained wood and photographs of snowy meadows, we looked through a window at the Muslim Brotherhood and Salafi groups erecting stages for a protest against Deputy Prime Minister Ali al-Selmy's supra-constitutional principles.
Tahrir Table closed its doors after we finished eating. The next day, tens of thousands of protesters took to the square. The day after that, Ministry of Interior forces attacked a few hundred protesters attempting a sit-in. A battle erupted that lasted for almost five days and left nearly 40 people dead and thousands injured.
What inspired the Swedish family that founded Tahrir Table to place their northern retreat on one of the world's most famous city squares? Convenience and poor timing, apparently. The owner told us that they first looked at the property on 22 January. But they hope that when things settle down it will be a go-to place for both tourists and Cairenes to have a classy lunch or dinner in the heart of downtown.
The political situation remains as unclear as ever, but if and when the square calms down, Tahrir Table has a lot going for it. Among the options for European cuisine in the not-outrageous price range (main courses run around LE60), Tahrir Table blows away the competition with dishes that demonstrate an attention to detail difficult to find in similar restaurants, especially downtown.
The Swedish meatballs may not be as tender their pork-based brethren in Stockholm, but they satisfy, aided by a rich gravy. Authentic touches like homemade sweet pickles and a tart lingonberry jam imported from Ikea in Dubai take the already satisfying dish a step further. The attention to detail also paid off in the poached white fish, rolled around a stalk of asparagus, with a cheddar dill sauce that appropriately evoked the subtle flavors of northern Europe. An appetizer of smoked salmon on toast was a little unwieldy but the combination of flavors (salty fish, fresh dill sprigs, a squeeze of lemon) hit the right notes. We only lamented that the herbed mayonnaise served on the side did not have more salmon and toast to accompany it.
The menu also features cold roast beef and oven-baked salmon among its authentically Swedish offerings. The variety of "scewers" may be familiar kebab, and the chicken panee sounds like a menu filler. But if our first sampling of Tahrir Table's offering is any indication, they may have some of the best chicken panee in Cairo. And we're sure the very eager servers, still quite obviously in their first days at work, will present it with panache.
We have only two complaints. First, Tahrir Table seems to keep a Nordic, rather than Mediterranean, schedule. When we arrived a little before 10 pm, we were told that the kitchen was almost closed. Also, nothing accompanies Scandinavian food as well as a beer, but Tahrir Table is still awaiting a liquor license. However, they may be selling Stellas by the time the square settles down.
We would never have asked for or expected a Swedish restaurant in such an audacious location, but then again, one never knows what will happen during these unpredictable days.