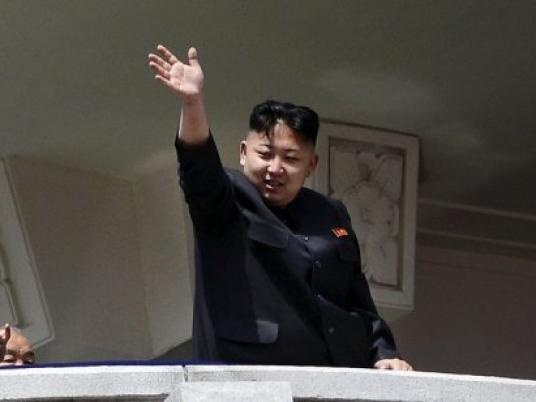 North Korea suspended its sole remaining major project with the South on Monday, after weeks of threats against the United States and South Korea, as Russian President Vladimir Putin said any nuclear conflict could make Chernobyl look like a fairy tale.
Reclusive North Korea's decision to all but close the Kaesong industrial park coincided with speculation that it will carry out some sort of provocative action — another nuclear weapons test or missile launch — in what has become one of the most serious crises on the peninsula since the end of the Korean War in 1953.
Tension has been rising since the United Nations imposed new sanctions against the North in response to its third test of a nuclear weapon in February. Pyongyang has been further angered by weeks of joint military exercises by South Korean and US forces and threatened both countries with nuclear attack.
Putin said conflict on the peninsula could cause greater devastation than the Chernobyl nuclear disaster in 1986.
"I would make no secret about it, we are worried about the escalation on the Korean peninsula, because we are neighbors," he told a joint news conference with German Chancellor Angela Merkel during a visit to a trade fair in Germany.
"And if, God forbid, something happens, Chernobyl which we all know a lot about, may seem like a child's fairy tale. Is there such a threat or not? I think there is … I would urge everyone to calm down … and start to resolve the problems that have piled up for many years there at the negotiating table."
UN Secretary-General Ban Ki-moon said North Korea could not go on "confronting" the authority of the Security Council and challenging the international community.
"I sincerely hope that they will fully comply with the relevant Security Council resolutions. This is an urgent and earnest appeal from the international community, including myself."
A senior North Korean official, quoted by the official KCNA news agency, said after a visit to Kaesong that authorities would withdraw North Korean workers and then decide on whether it would continue to operate.
"It will temporarily suspend the operations in the zone and examine the issue of whether it will allow its [continued] existence or close it," KCNA quoted Kim Yang Gon, secretary of the Central Committee of the Workers' Party of Korea, as saying.
KCNA said leaders in South Korea, a major US ally, were "running the whole gamut of intrigues to find a pretext for igniting a war against [North Korea] after reducing the Kaesong Industrial zone to a theatre of confrontation."
Seoul, it said, was trying to "turn the zone into a hotbed of war" against the North.
The North last week barred South Koreans from entering the zone and South Koreans had been leaving the zone gradually in the past week as raw materials and food begin to run out.
Analysts had suggested Pyongyang would continue to allow Kaesong to operate as it accounted for some US$2 billion in annual trade, with 50,000 North Koreans working in the zone making household goods for 123 South Korean companies.
It also generates more than US$80 million a year in cash in wages – paid to the state rather than to workers.
About 475 South Koreans workers remain in Kaesong. Thirteen factories have stopped operations due to lack of raw materials, according to the South's Unification Ministry.
"North Korea's unilateral decision to push ahead with this measure cannot be justified in any way and North Korea will be held responsible for all the consequences," the ministry said in a statement.
"The Korean government will calmly but firmly handle North Korea's indiscreet action and we will do our best to secure the safety of our people and the protection of our property."
'Preening, posturing'
Bruce Cumings, a historian and author of "North Korea: Another Country," said in a report Pyongyang was behaving to a pattern.
"Nothing is more characteristic of this regime than its preening, posturing, overweening desire for the world to pay it attention, while simultaneously threatening destruction in all directions and assuring through draconian repression that its people know next to nothing about that same world," he wrote.
The zone was the last shared link between the two Koreas as the North cut off three telephone "hot lines" and declared it was tearing up the armistice that ended fighting in the 1950-53 Korean War.
Earlier on Monday, the South's Defence Ministry denied suggestions that a nuclear arms test was imminent in North Korea, saying reported movements around the reclusive country's atomic site were routine, contradicting earlier government comments.
China's Foreign Ministry said it wanted to see nuclear-free peace on the Korean peninsula. Ministry spokesman Hong Lei told a Beijing briefing that China "believes that the only way to realize denuclearization is dialogue among all the parties concerned."
North Korean authorities told embassies in Pyongyang they could not guarantee their safety from Wednesday — after saying conflict was inevitable amid the joint US-South Korean military exercises due to last until the end of the month. No diplomats appear to have left the North Korean capital.
US Secretary of State John Kerry visits Seoul this week and the North holds celebrations and possibly military demonstrations next Monday to mark the birth date of its founder, Kim Il-Sung – grandfather of the current leader, 30-year-old Kim Jong-un.
The turmoil has hit South Korean financial markets, long used to upsets over the North. Shares in Seoul dipped to near a four-month low as the rhetoric prompted selling by foreigners after substantial losses on Friday.
Pyongyang has shown no sign of preparing its 1.2 million-strong army for war, indicating the threats are partly intended for domestic purposes to bolster Kim, the third in his family dynasty to rule North Korea.
But it has moved what appears to be a mid-range Musudan missile to its east coast, according to media reports last week.
Japanese public broadcaster NHK showed aerial footage of what it said were ballistic missile interceptors being deployed near Tokyo in response to North Korea's threats and actions.
Japan in the past has deployed ground-based Patriot Advanced Capability-3 (PAC-3) interceptors, as well as Aegis radar-equipped destroyers carrying Standard Missile-3 (SM-3) interceptors in the run-up to North Korean missile launches.
Japanese Chief Cabinet Secretary Yoshihide Suga declined to comment on the reports.
"Unveiling specific actions by the Self-Defence Forces is tantamount to putting down our cards on the table," Suga told a news conference. "I would like to refrain from commenting."