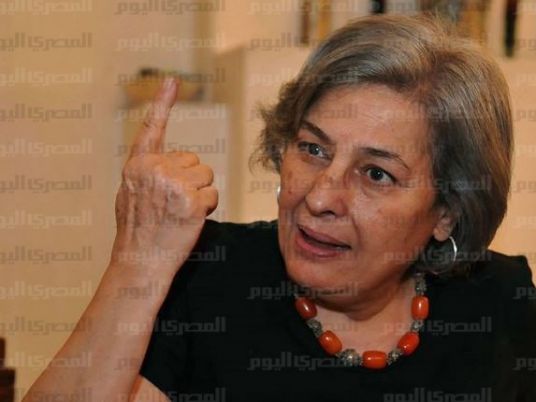 Egyptian prominent novelist and academic Radwa Ashour passed away last night after suffering from a decades-old battle with health complications.
Ashour is perceived as one of the most influential writers in Arab region leaving behind a diverse wealth of literary landmarks that will live on, touching the lives of millions.
The late novelist was born in 1946 in Cairo. She studied English literature at Cairo University and received her MA in comparative literature in 1972 from the same university. Three years later, she earned her PhD degree from the University of Massachusetts in United States.
Ashour's Granada trilogy was voted one of the top 100 literary works by the Arab Writers Union and received First Prize at the first Arab Women's Book Fair in 1995. The Trilogy was translated into more than one language including English and Spanish.
Her writing journey to success, however, was not a smooth ride, but paved with some self-struggles.
In 1969, at the age of 23, Ashour kicked off her writing career with a well-crafted short story under her belt. But, she kept questioning her talent which had plagued her down for more than a decade.
During the 1980s, Ashour was back to her literary pursuit, dogged by impetus, as she put it in her "My Experience with Writing" essay, triggered by her persistent health problems. Illness succeeded to slow her career down more than once, but never beat her unflagging trials to carve out a glittering future.
"Hagar Dafaa" (Warm Stone) was her first novel followed by a long line-up of in-depth artistic creations including "Khadeeja and Sausan," the celebrated Granada trilogy, "Qitaa Men Orouba" (Part of Europe), and "Ashbah" (Specters).
Besides her theoretical and critical works, Ashour was greatly influenced by her personal life about which she wrote an autobiography in 2013, entitled "Athqal Min Radwa" (Heavier than Radwa), recounting the ramfications of her illness along with her unforgettable experiences in Tahrir Square during Egypt's 2011 uprising.
Palestine was one of the repetitive topics her political works revolved around. It came as no surprise as Ashour was one of the activists who belonged to the Defense Committee for National Culture.
The committee was established by a group of Egyptian intellectuals and academics who condemned the peace treaty between Egypt and Israel in 1977 and the Israeli government's growing violations of human rights and fundamental freedoms.
Ashour marriage to Palestinian poet Mourid El-Barghouti, and the mother of the renowned poet Tamim El-Barghouti had partially influenced her to delve deeply into the Palestinian question.
In 2010, she authored Al-Tantoureya, a straight-forward story denouncing the Palestinians' expulsion from their own land and the sufferings they had been facing due to the violence exercised by Israel state.
In an interview with Al-Masry Al-Youm talking about Al-Tantoureya, she explained: "I have wanted to write about the 1984 catastrophe (the Israeli occuption of Palestine) for years, and now that I am past 60, I want to achieve what I want before I depart this life."
On its Twitter account, Egyptian Writers' Union expressed profound grief on learning of Ashour's death: "The great late novelist was one of the Egyptian national prominent figures who went through many battles, through her membership in many national committees, to enhance the freedom of universities and scientific research paving a way for a real freedom of our country."
Ashour was a member of the March 9 movement, which comprises a group of university professors calling for the independence of Egypt's universities.
Mona Anis, author, journalist and close friend to Ashour, announced on Twitter that the funeral will be held this afternoon at Salah El-Din in Manial and also said in her tweet: "Good bye my life companion…good bye my Radwa." Anis also posted on her Facebook page a short, documentary film on the unique novelist.
In May 2014, Ashour sent a video message to detained activist Mahinour al-Masry at the time, describing her as one of the promising, good examples of humanity who inspires others to stand up fearless for their own beliefs.
She also expressed her assurance that the young activist will pursue her path no matter what obstacles come her way, following in the footsteps of many leading women in Egyptian society.