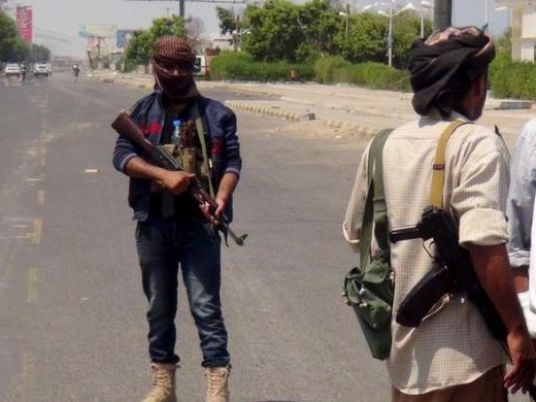 A Saudi military plane loaded with arms for fighters loyal to Yemen's deposed president landed at Aden airport on Wednesday,
an airport official said, the first flight to reach the embattled port city in four months.
Saudi-backed militiamen meanwhile exchanged heavy artillery fire with their Houthi foes in the northern approaches to Aden on Wednesday.
The militiamen said they were advancing toward Anad air base, Yemen's largest, 60 km (40 miles) north of Aden, and were close to linking up with other anti-Houthi fighters nearing the facility from its northern end.
The fighting and a near-blockade have pushed the humanitarian situation in Yemen to the brink of disaster but loyalist advances in Aden, scene of the heaviest combat, have opened it up to aid and guns.
"A Saudi military plane landed at Aden airport this afternoon carrying weapons and military assistance to the popular resistance forces, in the first flight there since March 25," the airport official said.
Loyalist fighters backed by air strikes from a Saudi-led Arab alliance wrested Aden, Yemen's main port, from the dominant Houthi group last week and Yemen's government in exile aims to turn Aden into its base to take back more territory from the Iran-allied group.
The foreign intervention and war raging across the country have killed over 3,600 people. Last week's loyalist gains were heavily supported by Gulf Arab training, arms shipments and air strikes.
Local fighters said 140 combat vehicles arrived from the Gulf on Wednesday. A United Nations chartered ship carrying 500,000 litres of fuel and other goods also berthed safely in Aden port on Wednesday, a World Food Programme spokeswoman said.
The war in Yemen has pitted Sunni Muslim Gulf states which support the exiled government against the Shi'ite Houthis allied to Iran. The Houthis took over the capital Sanaa in September and President Abd Rabbuh Mansur Hadi fled to Aden in February before leaving for Saudi Arabia as Houthi forces closed in on the city.