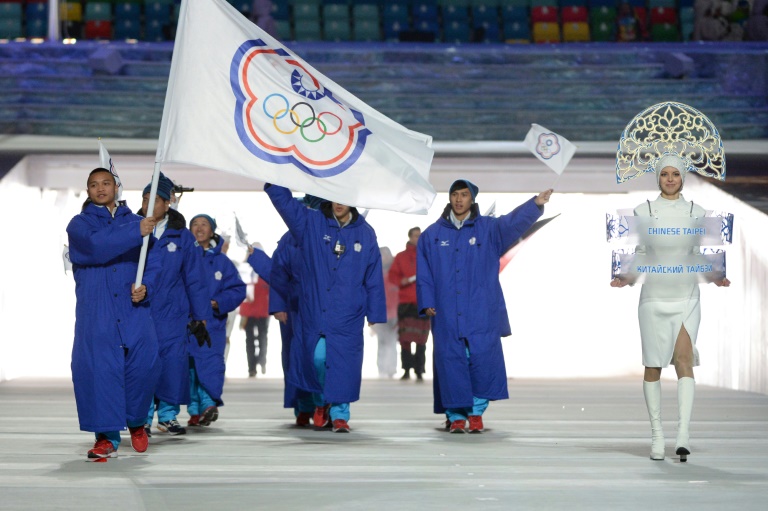 The International Olympic Committee has warned Taiwan that it could lose its right to compete if it tries to change its name for the 2020 Games in Tokyo, ahead of a referendum that will incense Beijing.
Taiwan will vote Saturday on whether the island should compete as "Taiwan" and not "Chinese Taipei" in a controversial referendum alongside local elections.
China, which still claims sovereignty over self-ruling democratic Taiwan, is particularly sensitive to the island's use of names, emblems and flags at international events.
These sensitivities — backed up by Beijing's clout on the world stage — mean Taiwan is forced to compete as "Chinese Taipei" at the Olympics and other international sports competitions.
The IOC wrote to the Chinese Taipei Olympic Committee (CTOC) and the government Friday saying that any name change was "under its jurisdiction" and warned of consequences if it felt there was interference.
It outlined a point in the Olympic Charter which says the IOC has the right to suspend a national Olympic committee if its activities are "hampered" by regulations or acts of government.
The local committee has already expressed concern that the island could lose its membership if it tries to push for the name change.
"The IOC does not interfere with local procedures and fully respects freedom of expression. However to avoid any unnecessary expectations or speculations, the IOC wishes to reiterate that this matter is under its jurisdiction, in accordance with the Olympics Charter," the letter said.
It added that the IOC would see any attempts to pressurise the local committee as external interference that could lead to "protective measures".
"The IOC is hoping that the interest of the Olympic Movement in Chinese Taipei will prevail over political considerations so as not to disrupt the CTOC delegation and the athletes," it added.
Taiwan has never formally declared independence from China and Beijing has threatened to react with force if it ever did.
The Chinese Taipei name was agreed upon in 1981.
But since then there has been a growing sense of separate Taiwanese identity on the island.
The name-change campaign has already irked China, with Beijing's Taiwan Affairs Office previously warning that Taiwan would "swallow its own bitter fruit" and sacrifice its athletes' chances to compete in international games.
Its anger over the potential referendum was blamed for the cancellation of an international youth event due to be held in Taiwan next year. The event was axed following a vote by the East Asian Olympic Committee in July.