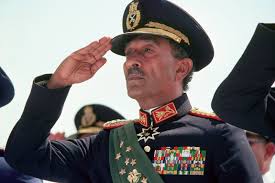 President Sadat was a journalist by nature and by profession.
For a period of his life he worked in Dar Al-Tahrir, which published the Al-Gomhuria newspaper. He followed the press more closely than many journalists, particularly admiring the Lebanese magazine Al-Hawadeth.
So when he asked Anis Mansour to issue the "October" magazine, he ordered him to model it after the Al-Hawadeth newspaper, which was owned by Salim al-Lawzi.
During the pre-issuance stage of the "October" magazine he reviewed it himself, and we still recall those pictures  he took with Anis during the review process.
In the book "Hewaraty Maa al-Sadat" (My Dialogues with Sadat) by Ahmed Bahaa Eddin, the author mentioned that when he took over the editorship of Al-Ahram, Sadat was always in contact with him and talked with him about the affairs of the newspaper, and not just politics.
Bahaa Eddin was amazed that Sadat knew the names of the members of the so-called "central disk" of the newspaper.
It was no secret that these people were responsible for reformulating the news press material and preparing it for publication, as well as bringing all pages of the newspaper to light.
But he was even more surprised when, during their meetings at the al-Qanater al-Khairiya rest house, Sadat asked about a member of the central disk and then warned about his political orientation.
Sadat's fondness for the "October" magazine was so great that he used to give it exclusive news that no other magazine or newspaper could get, which helped make it remarkably popular. 
And we used to buy it not just for reading purposes, but just to keep its issues around our homes.
His admiration for Al-Hawadeth magazine was borne out of his respect for the Lebanese press, which combined its skill in the profession with the ability to play a meaningful role in Lebanon and in the entire region.
"As-Safir" newspaper was a leading and vital newspaper in Beirut, whose owner and editor-in-chief, Talal Salman, was a star of the profession.

So when he found himself having to stop its issuance on January 4, 2017, he did so knowing that he had essentially stopped breathing.

The owner of As-Safir was buried a few days ago. In truth, however, he died that day on January 4, 2017, and it took until August 2023 to bury him – because without As-Safir in his life and in his country, he could not truly live!