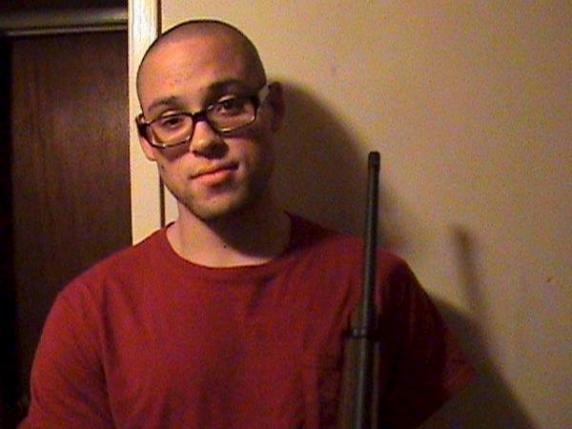 A heavily armed gunman who shot to death an English professor and eight others in an Oregon community college classroom was identified on Friday as a student in the class who previously had been turned away from a private firearms training academy.
A day after a rampage at Umpqua Community College in Roseburg that ended with 10 dead, including the gunman, and nine wounded, authorities sought a motive for the bloodiest US mass shooting among the dozens reported over the past two years.
As further details of the Roseburg shooting emerged, a former girlfriend of one of the wounded survivors, a US military veteran, revealed that his heroism in confronting the shooter may have saved others from being killed.
The state medical examiner on Friday confirmed that the assailant, shot dead by police, had been identified as Christopher Harper-Mercer, 26, and that he was enrolled in the writing class in which Thursday's carnage unfolded.
The gunman carried six guns, body armor and five magazines of bullets with him to campus. Seven more firearms were found with a stockpile of ammunition at the apartment he shared with his mother just outside Roseburg, a former timber town about 180 miles (290 km) south of Portland.
Celinez Nunez, assistant special agent of the US Bureau of Alcohol, Tobacco, Firearms and Explosives, said all the weapons had been purchased legally.
'Kind of a weird guy'
Harper-Mercer's preoccupation with firearms dated back at least to 2012 or 2013, when he sought to register for training at Seven 4 Para, a private self-defense and law enforcement academy in Torrance, California, where he lived at the time, said Eloy Way, president and head instructor for the center.
"We wanted him to take a beginner safety course, and he was trying to tell me that he already had experience with firearms, and I didn't get a good feeling about him, so I turned him down," Way told Reuters.
"He was just kind of a weird guy and seemed kind of spoiled, immature," Way recalled. "He was a little bit too anxious to get high-level training, and there was no reason for it."
Way's concerns that Harper-Mercer might misuse the training he would receive at the academy proved prescient.
The gunman stormed into his college classroom, shot the professor in the head and then ordered cowering students to stand up and state their religion, asking if they were Christian, before shooting them one by one, survivors said.
The intervention of another student, Chris Mintz, 30, a US Army combat veteran who served in Iraq, may have played a key role in preventing a higher casualty toll.
As the gunman moved toward an adjoining classroom, Mintz tried to stop him, according to Jamie Skinner, Mintz's former girlfriend and the mother of their 6-year-old son. The gunman opened fire, striking Mintz.
On the ground bleeding, Mintz pleaded with the shooter, telling him it was his son's birthday, but the gunman fired additional rounds, Skinner recounted, adding that the gunman then changed direction and entered a different room.
"The assailant was not able to make it into the classroom, because Chris stopped him," she said, adding that Mintz was hospitalized with two broken legs and seven bullet wounds.
Renewed gun debate
The Oregon shooting, the latest in a series of high-profile mass killings across the country, has led to fresh demands for stricter gun control in the United States, including an impassioned plea by Democratic President Barack Obama for political action, and statements by some Republican presidential candidates supporting the right of Americans to bear arms.
Among those to have championed the gun rights cause in the past was Douglas County Sheriff John Hanlin, who has refused since the shooting to comment on the debate and has repeatedly declined to name the Roseburg gunman during news conferences.
"Media and community members who publicize his name will only glorify his horrific actions," Hanlin said. "And eventually, this will only serve to inspire future shooters."
The sheriff on Friday identified the dead as Lawrence Levine, 67, the professor, and eight others who are believed to have been his students: Quinn Cooper, 18; Kim Saltmarsh Dietz, 59; Lucas Eibel, 18; Jason Johnson, 33 or 34; Sarena Moore, 44; Treven Anspach, 20; and Rebecka Carnes, 18; and Lucero Alcaraz, 19.
Fragmented picture emerges
Authorities have disclosed little information about the gunman or his motives.
The shooter left behind a "multipage, hated-filled" statement in the classroom, according to a Twitter message from an NBC reporter, citing multiple law enforcement sources who were not identified. CNN, citing sources, said the statement showed animosity toward blacks.
Hanlin declined to comment when asked about the writings at a press conference.
Harper-Mercer was born in the United Kingdom and arrived in the United States as a boy, his stepsister Carmen Nesnick told CBS Los Angeles.
His parents, Ian Mercer and Laurel Harper, divorced in Los Angeles in 2006 when he was a teenager, public records show, and he continued to live with his mother.
Harper-Mercer, who identified himself as "mixed race" on a social networking site, enlisted in the US Army and served for about a month in 2008 before being discharged for failing to meet administrative standards, military records showed.
He graduated from the Switzer Learning Center in Torrance, in 2009, a graduation listing in the Daily Breeze newspaper showed. Switzer is a private, nonprofit school geared for special education students with learning disabilities, health problems and autism or Asperger Syndrome, the school says on its website.
At some point, Harper-Mercer appears to have been sympathetic to the Irish Republican Army, a militant group that waged a violent campaign to drive the British from Northern Ireland. On an undated Myspace page, he posted photos of masked IRA gunmen carrying assault rifles.
Not counting Thursday's incident, 293 US mass shootings have been reported this year alone, according to the Mass Shooting Tracker website, a crowd-sourced database kept by anti-gun activists that logs events in which four or more people are shot.
The Roseburg shooting ranks as the deadliest bout of gun violence since September 2013, when a former US Navy reservist working as a government contractor killed 12 people before he was slain by police at the Washington, D.C., Navy Yard. About 80 shootings have occurred across the country since then that claimed at least four lives each.
Gun control advocates say easy access to firearms is a major factor in the shooting epidemic, while the National Rifle Association and other pro-gun advocates say the Second Amendment of the US Constitution guarantees Americans the right to bear arms.
Among those critical of efforts to enact tougher gun control measures has been Sheriff Hanlin.
A month after the December 2012 mass shooting at Sandy Hook Elementary School in Connecticut, he wrote a sharply worded letter to Vice President Joe Biden saying he would never enforce a federal law that violates the Constitution.
"Gun control is NOT the answer to preventing heinous crimes like school shootings," Hanlin wrote in the letter, dated January 15, 2013.