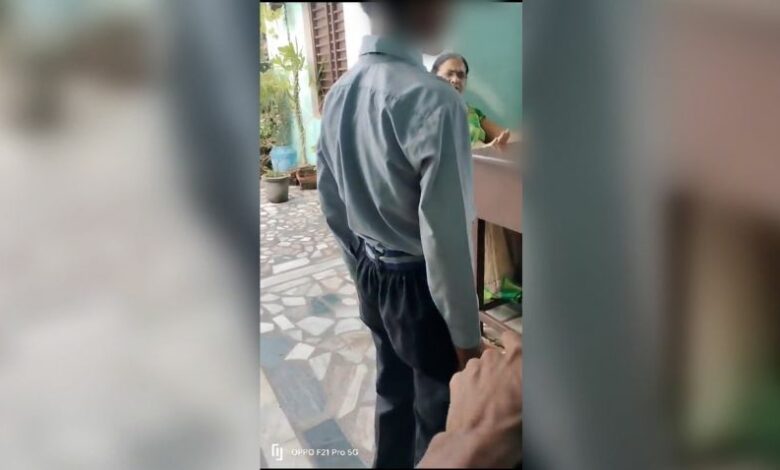 New Delhi
CNN
 —  Police in
India
are investigating a teacher after a video of her encouraging students to slap their 7-year-old classmate, who is Muslim, sparked widespread outrage in the country.
The video of the incident, which took place in the Muzaffarnagar district in northern Uttar Pradesh state, shows the boy fearfully standing in front of his classmates as the teacher calls on students to hit him.
The boy cries as his classmates take turns to slap him, while the teacher is heard telling the students to do it "properly." A man can be heard laughing as the boy wails while the slapping continues.
Muzaffarnagar's superintendent of police, Satyanarayan Prajapat, on Friday said the teacher told students to hit the boy "for not remembering his times tables."
The teacher also referenced the boy's religion, according to Prajapat.
"The female teacher declared: 'When the mothers of Mohammedan (one who follows Islam) students don't pay attention to their children's studies, their performance is ruined," he said
Police in the district have registered a case against the teacher and an investigation is underway. The teacher has not been formally charged. District officials have also ordered the school to shut, according to CNN affiliate CNN News-18.
CNN has reached out to Uttar Pradesh police officials for more details.
The incident has caused widespread anger and upset in India, the world's largest democracy of 1.4 billion, where the ruling Bharatiya Janata Party's (BJP) Hindu nationalist policies have deepened the country's communal tensions and created what rights groups and government critics say is an atmosphere of fear and alienation among minority groups.
Prominent opposition politician Rahul Gandhi accused the teacher of "sowing the poison of discrimination in the minds of innocent children." Writing on Twitter, now known as X, he said: "Turning a holy place like school into a market place of hatred – there is nothing worse than this that a teacher can do for the country."
Gandhi also blamed the BJP for stoking religious intolerance.
"This is the same kerosene spread by the BJP which has set every corner of India on fire," Gandhi wrote. "Children are the future of India – do not hate them, we all have to teach love together."
While the BJP has not responded to Gandhi's comments, it has long maintained it does not discriminate against minorities and "treats all its citizens with equality." During a trip to the United States in June, Prime Minister Narendra Modi told reporters there was "absolutely no space" for discrimination in India.
Indian law does not have a statutory definition of corporal punishment targeting children, however physical punishment and mental harassment are prohibited under the country's Right of Children to Free and Compulsory Education Act.
According to CNN News-18, the teacher claimed the 7-year-old's father had asked her punish the child, adding that she was unable to do so because she is disabled and had therefore told the other students to discipline him.
"His father brought the child in and said to straighten him out. Now because I can't get up, I thought I'd get one or two children to hit him," she said.
The incident comes at a time of heightened communal tensions in the country as the BJP's popular but divisive policies gain momentum in India.
A study by economist Deepankar Basu noted a 786% increase in hate crimes against all minorities between 2014 and 2018, following the BJP's election victory.
Uttar Pradesh, where the incident took place, is India's largest state of about 200 million. It boasts a religiously diverse population, where about 20% of its residents are Muslim.
However, it remains among one of the most polarized of states in India.
Its chief minister, the Hindu-monk-turned BJP politician Yogi Adityanath, has been criticized for his anti-Muslim rhetoric and Hindu-first policies, and the state has passed legislation critics say is rooted in "Hindutva" – the ideological bedrock of Hindu nationalism.