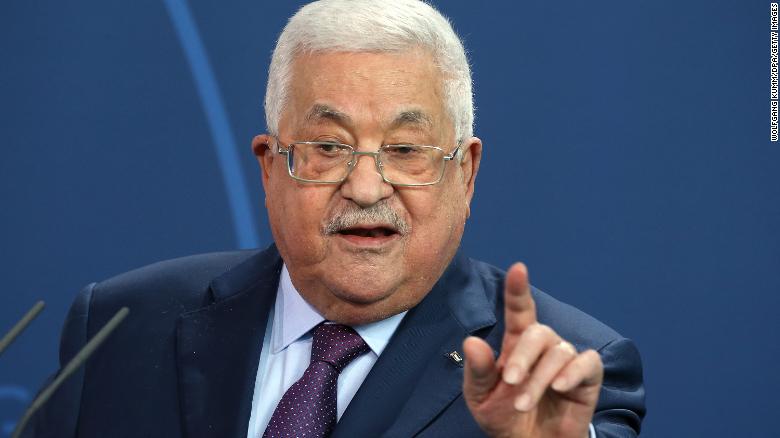 Berlin and Jerusalem (CNN) – Palestinian Authority President Mahmoud Abbas struck a deep nerve on Tuesday when he said Israel has caused "50 Holocausts" against Palestinians, triggering outrage from world leaders and a social media storm.
"From 1947 to the present day, Israel has committed 50 massacres in Palestinian villages and cities," Abbas said in Arabic, standing next to German Chancellor Olaf Scholz at a news conference in Berlin. "50 massacres, 50 Holocausts, and until today, and every day there are casualties killed by the Israeli military."
Abbas had been asked by a journalist if he would apologize for the 1972 Olympics massacre in Munich, when members of the Israeli team were taken hostage by Palestinian gunmen, at the time part of a splinter group of Abbas' Fatah party, leading to the death of 11 Israeli athletes and coaches, and one West German policeman, following an armed standoff.
This September marks the 50th anniversary of the Munich attack.
Scholz did not immediately react to Abbas on stage, but later tweeted, "I am disgusted by the outrageous remarks made by Palestinian President Mahmoud #Abbas. For us Germans in particular, any relativization of the singularity of the Holocaust is intolerable and unacceptable. I condemn any attempt to deny the crimes of the Holocaust."
Germany's ambassador to Israel, Steffen Seibert, tweeted that, "What President #Abbas said in Berlin about "50 holocausts" is wrong and unacceptable. Germany will never stand for any attempt to deny the singular dimension of the crimes of the Holocaust."
Israeli leaders also widely condemned the remark, with Prime Minister Yair Lapid saying, "Mahmoud Abbas accusing Israel of having committed '50 Holocausts' while standing on German soil is not only a moral disgrace, but a monstrous lie."
"Six million Jews were murdered in the Holocaust, including one and a half million Jewish children. History will never forgive him," tweeted Lapid.
Israeli Defense Minister Benny Gantz described Abbas' words as "despicable and false." "His statement is an attempt to distort and rewrite history," Gantz said.
Global figures also criticized the remarks. The US State Department's Special Envoy to Monitor and Combat Antisemitism, Ambassador Deborah E. Lipstadt, described them as "unacceptable," adding that, "Holocaust distortion can have dangerous consequences and fuels antisemitism."
Abbas' staff sought to clarify his comments on Wednesday. "President Mahmoud Abbas reaffirms that the Holocaust is the most heinous crime that has occurred in modern human history," read a statement from his office.
His answer "was not intended to deny the specificity of the Holocaust, which was committed in the last century, and is condemned in the strongest terms," it added.
"What is meant by the crimes that … Abbas spoke of are the massacres committed against the Palestinian people since the Nakba by Israeli forces, crimes that have not stopped to this day," the statement concluded. This refers to the establishment of Israel in 1948, called al-Nakba or "the catastrophe" by Palestinians, after more than 700,000 Palestinians were either expelled from or fled their homes during the resulting Arab-Israeli war.
This is not the first time that Abbas has made remarks deemed antisemitic. As a doctoral student in the Soviet Union in the 1980s, Abbas wrote a thesis that alleged a secret relationship between Nazis and early advocates for a Jewish state, according to Reuters. His claims resurfaced as an issue in 2018, when he said that Jews living in Europe had suffered since the 11th century "not because of their religion, [but] it was because of their social profession."
"So the Jewish issue that had spread against the Jews across Europe was not because of their religion, it was because of usury and banks," he said during an opening speech at Palestinian National Council (PNC), the de facto parliament for the Palestine Liberation Organization.
Following mass outrage, Abbas later apologized for his comments, saying that he condemned antisemitism and calling the Holocaust the "most heinous crime in history."
CNN's Abeer Salman and Amir Tal contributed to this report.