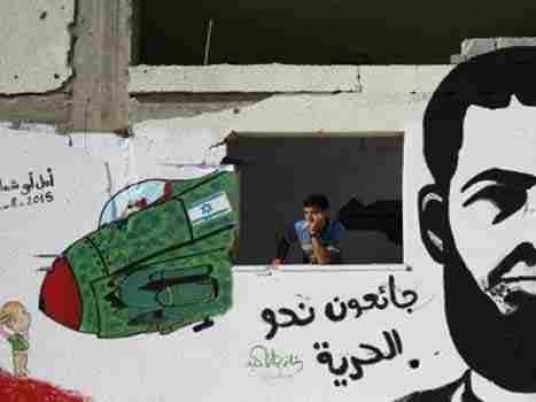 A nearly two-month hunger strike by a Palestinian detainee now in a coma may test a controversial new Israeli law on force-feeding, with doctors vowing to refuse to carry it out.
Mohammed Allan, 31, slipped into a coma on Friday after ingesting only water since June 18 in protest at his detention without charge by Israeli authorities.
After Allan fell into the coma, doctors began treating him with artificial breathing, fluids and vitamins to keep him alive, based on discussions with him before he lost consciousness.
His condition has now stabilised, but his life is still in danger, according to the head of the hospital where he is being treated.
If and when he regains consciousness — and if he continues to refuse to eat — Israel's government must decide whether it will invoke a law passed in July allowing the force-feeding of prisoners when their lives are endangered.
It was not clear how such force-feeding would take place.
Doctors and rights activists strongly oppose the law, including those who say force-feeding amounts to torture and robs Palestinians of a legitimate form of protest.
The law has provoked intense debate, particularly with doctors saying they will decline to carry out force-feeding since the new legislation gives them the choice of whether or not to do so.
– 'It's a test' –
"I think it's a test to many institutions," said Hadas Ziv, ethics committee coordinator for Physicians for Human Rights-Israel, an activist group which opposes the force-feeding law.
"It's a test to the medical community in Israel… It's a test to the authorities — how serious are they going to be with this legislation?"
Allan's situation has sparked protests in support of his cause and demands for his release.
Since November he has been in what is known as administrative detention, which allows people to be held without charge for six-month intervals that can be renewed indefinitely.
Israeli figures indicate that of the nearly 5,700 Palestinian prisoners currently held by Israel, some 379 are under administrative detention.
The militant Islamic Jihad movement describes Allan as a member, and Israel has used administrative detention to hold Palestinians they deem to be security risks while not divulging what authorities view as sensitive intelligence.
Many Palestinian prisoners have gone on hunger strike to protest, including those on administrative detention. However, no hunger striker has died since the 1980s.
Hundreds of people rallied on Saturday night in Gaza, while on Sunday several dozen people entered the Red Cross headquarters in East Jerusalem with photos of Allan.
– 'End to the truce' –
Islamic Jihad has called for a general mobilisation and warned from Gaza that his death would be an "end to the truce" with Israel.
Should Israel decide to invoke the new law, authorities would be required to seek a court order.
Beyond arguing that the patient's life was in danger, they could also present arguments that allowing him to die would lead to security risks, according to Physicians for Human Rights.
A court order in favour of the government would allow doctors to then proceed with force-feeding, but the doctors could refuse to do so if they decide it is unethical.
Doctors have lamented that they have been caught up in a political debate, and the Israeli Medical Association is challenging the force-feeding law in court.
"We can solve medical problems. We can't solve any political or security or policemen's work," said Tami Karni, chair of the medical association's ethics bureau.
Israel's parliament approved the law two weeks after authorities freed Islamic Jihad member Khader Adnan following a 56-day hunger strike that brought him near death.
Internal Security Minister Gilad Erdan, who championed the legislation, said it was necessary since "hunger strikes of terrorists in prisons have become a means to threaten Israel".
Rights group Addameer, which defends Palestinian prisoners, said force-feeding a detainee was "immoral" and "harms his dignity and puts his life in danger".