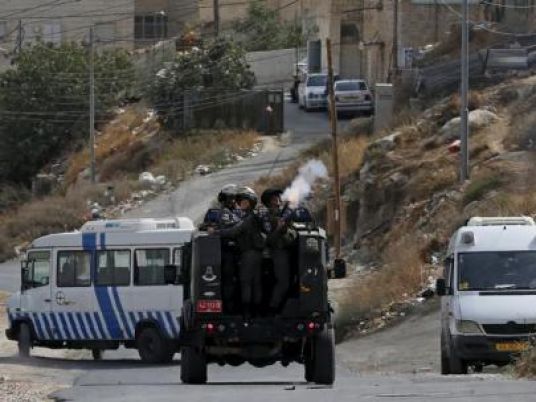 Israeli troops on Tuesday shot dead an alleged Palestinian assailant after petrol bombs and rocks were thrown at Israeli vehicles in the occupied West Bank, injuring three people.
The Palestinian was identified by the mayor of his village as a 15-year-old. The incident, in the early hours of the morning, occurred on a main highway between Tel Aviv and Jerusalem that traverses the West Bank, the military said.
Over the past eight months, Palestinian attacks have killed 32 Israelis and two visiting US citizens. Israeli forces have shot dead at least 197 Palestinians, 135 of whom Israel has said were assailants. Others were killed in clashes and protests.
Describing the highway incident, the military said in a statement that several Palestinians threw petrol bombs and rocks at vehicles, injuring three civilians, two of whom were identified by Israeli media as foreign tourists.
Troops nearby fired at the assailants, resulting in the death of one of them, the statement said.
Abdul Karim Kassem, head of the local council of the Palestinian village of Beit Ore-Tahta, told Reuters that Mahmoud Badran, the teenager killed in the incident on Highway 443, was in a car with other passengers "returning from a pool in a village near us when they came under fire".
Another Palestinian was wounded by Israeli gunfire and taken to hospital in the West Bank city of Ramallah. The military said two additional suspects were arrested.
The last deadly violent incident occurred on June 8 when two Palestinian gunmen shot dead four Israelis at a cafe in Tel Aviv.
Palestinian leaders say attackers have acted out of desperation over peace talks frozen since 2014 and Israeli settlement building in occupied territory they seek for a state.
Tensions over Jewish access to a volatile and contested Jerusalem holy site, revered by Muslims as Haram al-Sharif (Noble Sanctuary) and Jews as Temple Mount, have also fueled the violence.
Israel says incitement in the Palestinian media and personal problems at home have been important factors that have spurred assailants, often teenagers, to launch attacks.