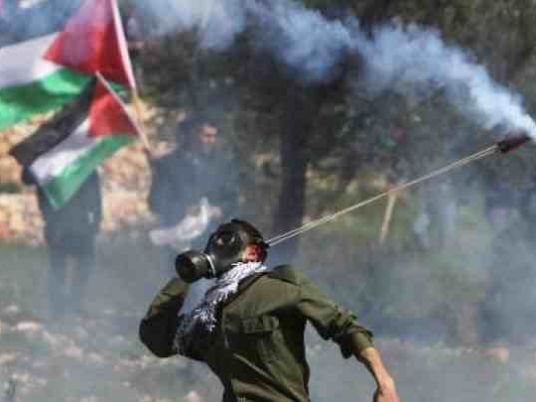 Palestinian, Israeli and foreign activists faced off against Israeli forces Friday in the occupied West Bank village of Bilin where they marked 10 years of protests against Israel's separation barrier.
In what has become a weekly ritual, the activists marched towards the barrier which cuts villagers off from their fields.
Palestinian youths with slingshots aimed stones at border police posted along the wire-topped concrete wall and the police fired tear gas to disperse them, AFP journalists at the scene said.
At least one demonstrator was arrested, another was seen being taken away by ambulance after a blow to the head and several suffered tear gas inhalation.
The extent of their injuries was not known.
Israel says the barrier is designed to prevent militant attacks, but the Palestinians say it is an "apartheid wall" that carves off key parts of their promised state.
When the 709-kilometre (435-mile) barrier is complete, 85 percent of it will have been built inside the West Bank.
The weekly Bilin demonstrations, which began in February 2005, are billed as non-violent but frequently turn into clashes between rock-throwing youths and Israeli forces firing tear gas, rubber bullets or live rounds.
There have been fatalities.
In January 2011, a woman protester, Jawaher Abu Rahmah, died after inhaling tear gas. Her brother Bassem Abu Rahmah died in April 2009 after being hit on the head by a tear gas canister.
In the southern West Bank city of Hebron, meanwhile, there was a violent protest on a different anniversary, that of the massacre of Muslim worshippers by a Jewish settler.
Demonstrators threw stones and powerful firecrackers at Israeli soldiers and border police, who responded with rubber bullets, tear gas and stun grenades.
There was no report of Palestinian casualties but the Israeli military said two border policemen were slightly injured.
On February 25, 1994, Israeli settler Baruch Goldstein gunned down 29 Palestinians praying in the Ibrahimi Mosque — revered by Jews as the Cave of the Patriarchs — before he was beaten to death by survivors.
Hebron's main street was partly closed to Palestinians afterwards and later declared a "closed military zone," restricting Palestinian access to residents of the immediate area — and then on foot only.
Hundreds of Palestinians marched after Muslim prayers on Friday to demand the reopening of the street, whose closure has had a domino effect throughout the central commercial district.
Organisers say that 520 businesses have had to shut down.
Hebron, the West Bank's largest city, is a powder keg where about 700 Jewish settlers live surrounded by more than 200,000 Palestinians, under the protection of Israeli security forces.
Demonstrators were also concerned at Israeli media talk of a possible visit to Hebron by Israeli Prime Minister Benjamin Netanyahu before the March 17 general election.
Although Netanyahu's rightwing government leans heavily on settler support, plans for such a visit remain unconfirmed.